NO! said Rabbit – at a glance
The School Reading Lists' five word review: perfectly attuned to a 3-year-old
Children's book title: NO! said Rabbit.
Children's author: Marjoke Henrichs.
Genre: fiction picture book.
Published by: Scallywag Press.
ISBN: 9781912650248
Recommended for children aged: 3+
This edition published: February 2021.
This children's book is ideal for: reading and sharing with younger children.
---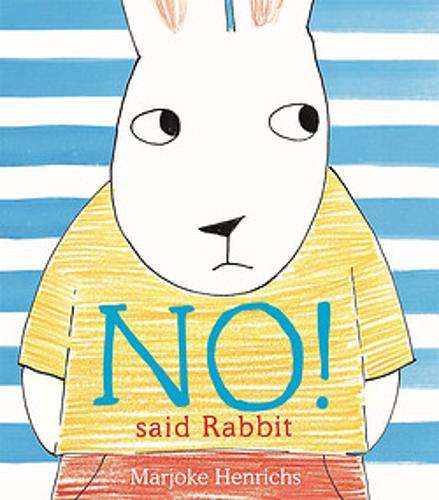 To see the latest price or order, click on the book cover image.
---
Our review:
NO! said Rabbit by Marjoke Henrichs.
I was able to road-test this book on an actual reader from its target age-group: my grandson, who will be three in June. In fact, next week he will be a thousand days old, and most research in the area of child psychology assures us that the first thousand days of life are crucial to all later development and what we are being encouraged to call 'life-chances.'
If you are well-nourished, consistently loved, attended to, encouraged to play (alone and with others) and intellectually stimulated, then the hand you are dealt in life will be packed with aces and picture cards, which can never be taken from you. Repetition and routine are essential.
My particular thousand-day-old cannot be stopped from wriggling away if he isn't totally absorbed by something. Marjoke Henrichs' delightful book held him rapt right to the end.
We are taken through Rabbit's day as his mother wakes him up, gets him dressed, offers him breakfast, urges him outside, bathes him and gives him a final cuddle before bed. At each stage, Rabbit shouts a huge NO! (which the reader and child can chorus) but soon succumbs to the attractions of his mother's suggestions.
The register of the writing, the journey through the familiar events of the day and the chunky crayoned illustrations are perfectly attuned to the sensibilities of a two-to-three-year-old. I'm sure it will prove to be a frequently demanded pleasure in our house for some months to come.
There's a range of resources for this book on the publisher's website.
Many thanks to Scallywag Press for the review copy.
If you like NO! said Rabbit you might also like: our collection of picture books to read before you are five, Can You Whistle, Johanna? by Ulf Stark and Anna Höglund, My Sneezes Are Perfect by Rakhshan Rizwan and Yusuf Samee, Little Big Feelings Endorsed by Dr Janet Rose founder of Emotional Coaching UK, Scruff by Alice Bowsher and A Million Dots by Sven Völker.
---
Browse more books for EYFS & KS1