Growing Up Powerful by Nona Willis Aronowitz – at a glance
The School Reading Lists' five word review: Empowering, positive, informative, inclusive, inspiring.
Children's book title: Growing Up Powerful.
Children's author: Nona Willis Aronowitz.
Children's illustrator: Caribay Marquina.
Genre: Self-help.
Published by: Rebel Girls.
ISBN: 9781953424457.
Recommended for children aged: 8+ year-olds.
First published: Paperback May 2023.
This children's book is ideal for: Girls aged 8-13.
---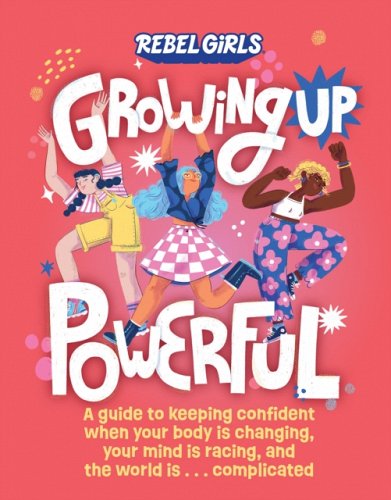 To see the latest price or order, click on the book cover image.
---

Our review:
Growing Up Powerful describes itself as 'A guide to keeping confident when your body is changing, your mind is racing and the world is … complicated'. Written by the publishing team behind the bestselling Good Night Stories for Rebel Girls, this is an inclusive, positive guide to the pre-and early teen years. More a survival guide than a self-help manual, it is aimed at girls aged between 8-13 as they navigate the complicated worlds of friendship, school and early puberty.
We know that growing up can be overwhelming at times. But it's also pretty amazing.
The book contains many practical tips, real-life scenarios and quizzes which aim to explore choices and opinions. Each double-page spread contains at least one illustration or post-it note quote, making the text visually appealing and accessible to both confident and reluctant readers. The short sections make it easy to dip into and ideal to discuss and share with friends.
QR codes throughout the book link to additional content and further sources of information. There are sections written by experts including school counsellors and psychologists and the book also ties in with the child-friendly Rebel Girls app.
Growing Up Powerful is divided into five general themes:
My brain is powerful – feelings, mindfulness, stress, learning difficulties
My body is strong – puberty, self-care, exercise, healthy eating
I am a valuable member of my family – parent and sibling relationships, family disagreements, chores
We are stronger together – friendships, bullying, peer pressure, relationships
I can make the world a better place – news overload, careers, advocacy
The book contains scientific information on brain and body development, tips for navigating changing friendships and creative ideas for self-care. The text speaks directly to young readers in a non-patronising manner that will appeal to those don't like being talked down to by adults pretending they know best. There is a strong emphasis on individuality and self-expression, of living life on your terms rather than comparing yourself to others.
A strong theme of inclusivity also runs throughout the book. The illustrations portray girls of different ethnic backgrounds, body shapes and visible physical abilities. There are dedicated sections on neurodiversity and LGBTQ+ identities.
Rebel Girls do not accept exclusion. We welcome all kinds of people, with all kinds of experiences and backgrounds. Being around difference makes us kinder, smarter, and more empathetic humans. And it makes others feel good too.
Growing Up Powerful is noticeably written for an American readership and some of the terminology and concepts may jar a little with British readers (Middle School, health insurance, seeing the Principal etc). The 'Resources' section contains largely American-based websites so may not be fully applicable to a British readership but remain useful for additional reading.
Growing Up Powerful is a positive, relevant guide to the early teenage years that will appeal to fans of Judy Blume and the Rebel Girls books.
Many thanks to Rebel Girls for the review copy.
---
If you like Growing Up Powerful by Nona Willis Aronowitz you might also like: our reviews of The Awesome Power of Sleep by Nicola Morgan, Britannica All New Children's Encyclopedia edited by Christopher Lloyd, I Ate Sunshine For Breakfast by Michael Holland, Happy Healthy Minds by The School of Life, The Truths We Hold – An American Journey by Kamala Harris and Fighting in a World on Fire by Andreas Malm.
---
Browse our list of books for KS2