Books for Year 6 – here's our selection of recommended titles chosen by experienced teachers and librarians. Are you looking for a storybook for the classroom, the library, or your child's collection, or choosing titles for a class reading list, or curriculum spine of year 6 books to motivate your pupil to read more? The following list contains 40 titles for children aged 10-11 in KS2 of primary school, suitable for individual reading, paired reading, class teaching, and book clubs. These age-appropriate reading-for-pleasure recommendations for UKS2 students consist of a variety of fiction and nonfiction books for all ability ranges and interests. The books in this list are reviewed termly and include middle-grade novels and stories by Jamila Gavin, Onjali Rauf, Jasbinder Bilan, David Almond, Lara Williamson, JRR Tolkien, Michelle Magorian, Maz Evans, Zizou Corder, Nina Bawden and more.
As an Amazon Associate schoolreadinglist.co.uk earns from qualifying purchases.
---
Books for Year 6 – our recommendations
---
Click the buttons below to purchase all of the books in this Year 6 book list, as well as class sets of any of these books and many more, from Bookshop.org UK. Or buy the 20 most popular titles from this list from Amazon – ideal for gifts or your classroom library.
Buy from UK.Bookshop.Org Buy from Amazon.co.uk
Disclosure: If you buy books using the buttons above: we may earn a commission from Bookshop.org, whose fees support independent bookshops; as an Amazon Associate schoolreadinglist.co.uk earns from qualifying purchases.
Books for year 6 video
Below is a video highlighting all our Year 6 book picks in a catchy 5-minute slideshow which can be displayed in primary school libraries, used in the classroom, at home, for CPD or shared as a link for home learning or remote teaching.
How many of our year 6 books have you read?
Here's a free background wallpaper of our recommended year 6 books list to use on your classroom computer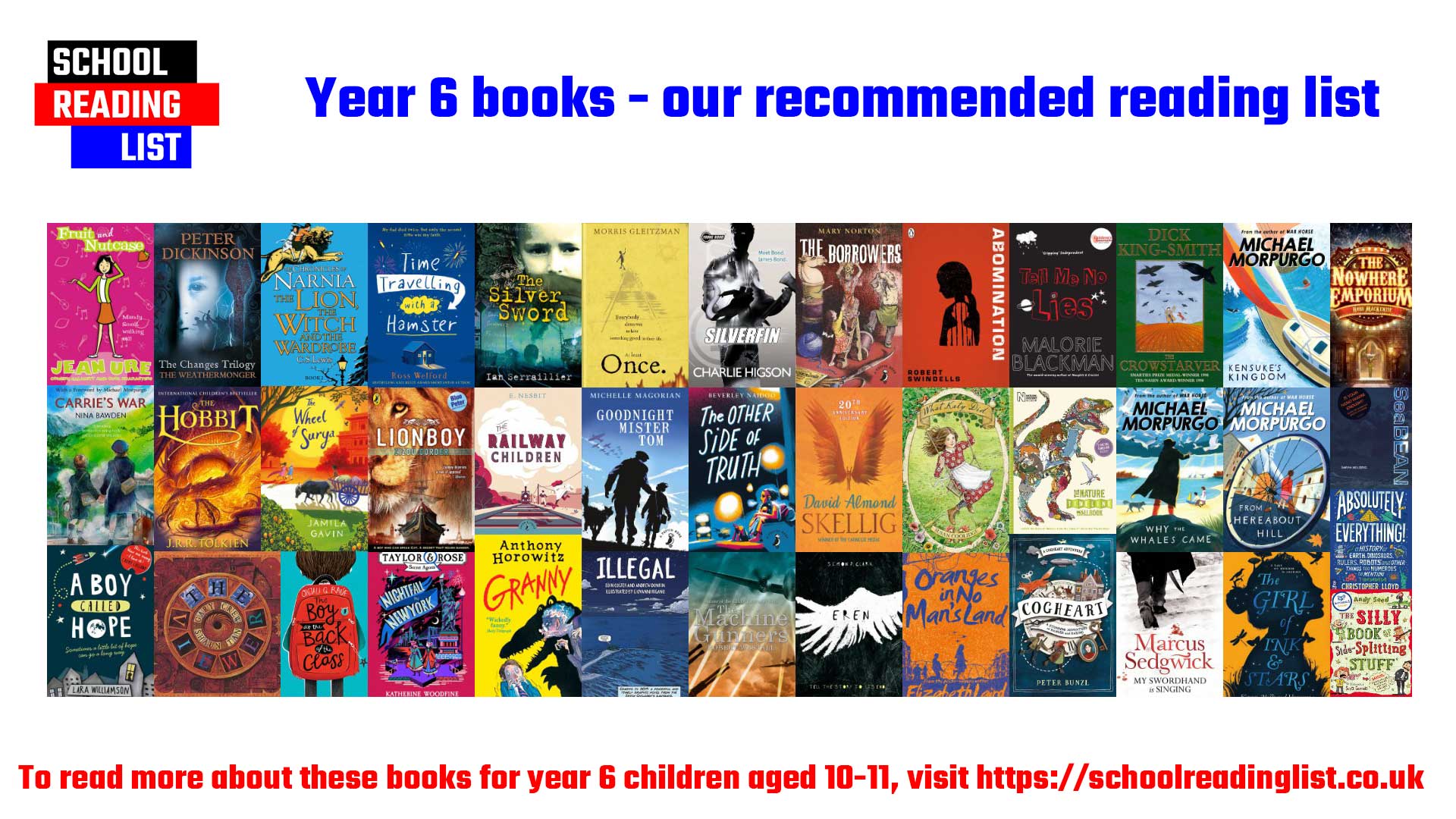 Schools & teachers: please respect copyright and don't copy our Year 6 book list. If you find our recommendations useful, please consider sharing on social media or linking to this page instead. Thanks.
Books for Year 6 – what titles to recommend to children
Navigating the transition to secondary school can be a pivotal time for Year 6 students. Recommending books that address themes of resilience, self-discovery, and coping with change can offer valuable insights. Consider titles that explore the challenges of exams and SATS pressure, providing relatable stories that depict characters overcoming stress and uncertainty. Books focusing on the emotional aspects of being the oldest at primary school can help students process their feelings and embrace leadership roles. Additionally, introducing literature that delves into issues of social and peer pressure equips Year 6 readers with the tools to make thoughtful choices and build strong interpersonal skills as they embark on this significant phase in their academic journey. A well-curated booklist for Year 6 pupils can prove beneficial here.
What reading level should a year 6 be?
Determining the appropriate reading level for Year 6 students involves considering both individual abilities and broader literacy benchmarks. Generally, students in Year 6 are expected to comprehend and analyse more complex texts, demonstrating proficiency in understanding nuanced themes and characters. At this stage, a good indicator is their ability to handle books with increased vocabulary, varied sentence structures, and challenging content. However, it's crucial to recognize that reading levels can vary among individuals, so providing a range of books that cater to different reading abilities ensures inclusivity and fosters a love for reading in all students. Personalised Year 6 book lists can help to achieve this.
---
Click for more children's reading book recommendations – Picture books to read before you are 5 years old | Reception books | Year 1 books | Year 2 books | Year 3 books | Year 4 books | Year 5 books | Year 6 books (this page) | Topic books | KS3 books
---
For less demanding books for year 6, try the Books for Year 5 reading list.
For even more books for 10-11-year-olds, see this list.
For the more able child, try the Books for Year 7 reading list.