Books for year 2 – if you are looking for great books for six-year-olds, here's our list of 40 of the best books to engage infants aged 6-7 in year two and foster an early love of reading. The following suggestions contain picture books, poetry, first readers and chapter books to appeal to a wide variety of children in KS1 year 2 classes in UK primary schools. These recommended books consist of a range of titles to appeal to ability ranges including the less able, the more able, reluctant readers and struggling readers. This list includes year 2 books suitable for individual reading, reading with siblings, class reading, support groups, book clubs, reading corners, for reading aloud and performance, and paired reading. This list of year 2 books and suggestions for their use in teaching is revised each term and includes stories by Mac Bennett, Anete Melece, Louise Fatio, Michael Rosen, Anthony Browne, Clotilde Perrin, Raymond Briggs, Wendy Orr and more.
As an Amazon Associate schoolreadinglist.co.uk earns from qualifying purchases.
---
Books for Year 2 – our recommendations
---
Books for year 2 video
Below is a video containing all our year 2 book ideas as a quick-fire video – suitable for classrooms, projectors, wall panel displays, school libraries and sharing on school websites and social media.
How many Year 2 books have you read?
Here's a free background wallpaper of our recommended year 2 books list to use on your classroom computer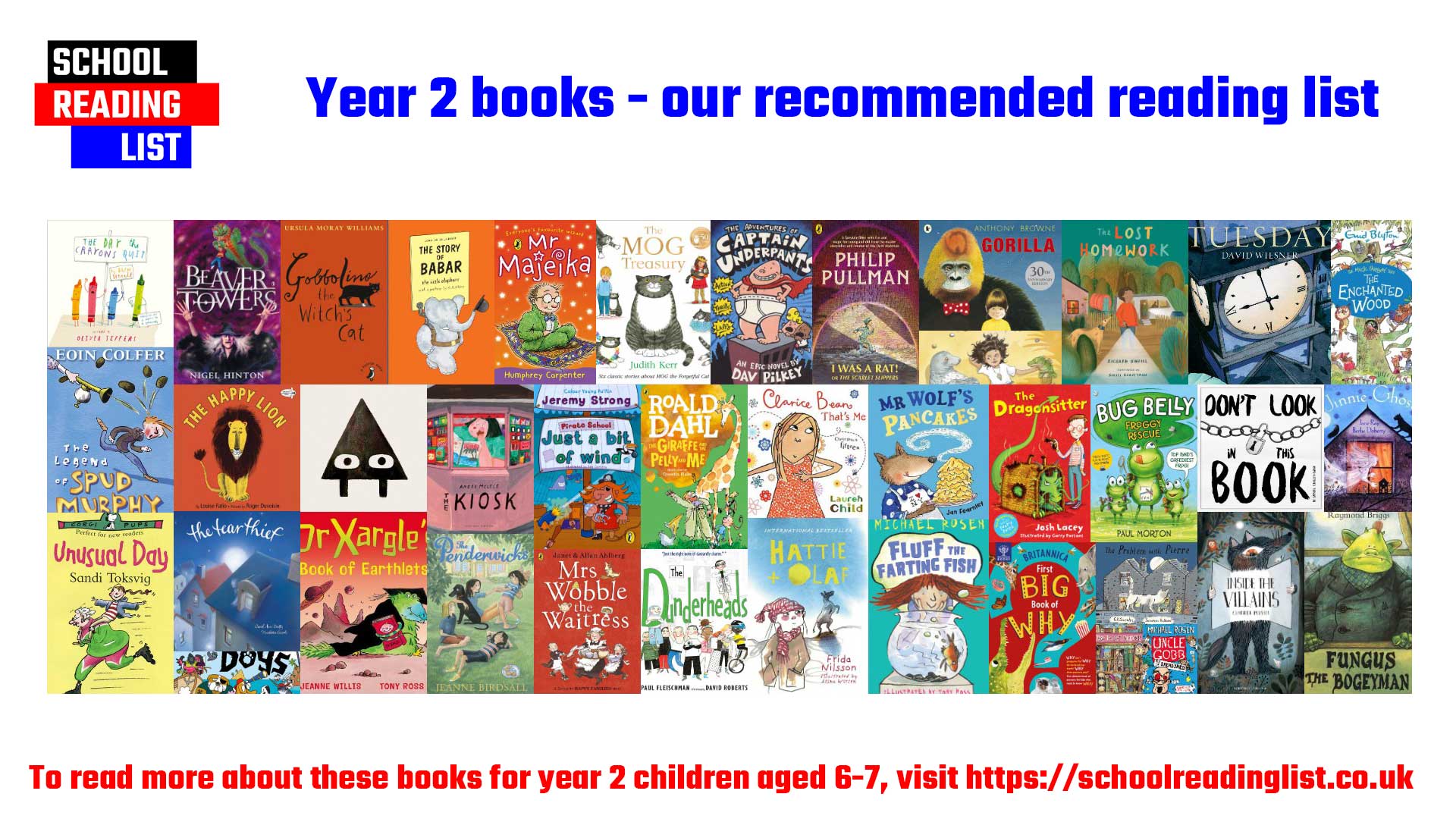 Schools & teachers: please respect copyright and don't copy our Year 2 book list. If you find our book recommendations useful, please consider sharing on social media or linking to this page instead. Thanks.
---
Click for more children's reading book recommendations – Picture books to read before you are 5 years old | Reception books | Year 1 books | Year 2 books (this page) | Year 3 books | Year 4 books | Year 5 books | Year 6 books | Topic books | KS3 books
---
If you liked our list of year 2 books, why not try our Books for Year 1 reading list or our list of recommended picture books. We also have a great list of pirate-themed books for topics in year 2.
For even more books for 6-year-olds, see this list.
For more difficult titles, try our Books for Year 3 reading list.