Books for Year 2. Here's our reading list of 45 books to foster an early love of reading in Year 2. With picture books, poetry, first readers, and chapter books, there's a wide variety of titles to appeal to children in KS1 Year 2 classes in UK primary schools. With a range of material to appeal to all ability ranges including the less able, the more able, reluctant readers, and struggling readers; these stories can be used for individual reading, reading with siblings, and whole class reading. This list of Year 2 reading books is revised each term and includes stories by Mac Bennett, Anete Melece, Joseph Coelho, Louise Fatio, Michael Rosen, Anthony Browne, Clotilde Perrin, Raymond Briggs, Wendy Orr, and more.
As an Amazon Associate schoolreadinglist.co.uk earns from qualifying purchases.
---
Books for Year 2 – our recommendations
---
Click the buttons below to purchase all of the books in this Year 2 reading list, as well as class sets of any of these books and many more, from Bookshop.org UK. Or buy the 20 most popular titles from this list from Amazon – ideal for gifts or your classroom library.
Buy from UK.Bookshop.Org Buy from Amazon.co.uk
Disclosure: If you buy books using the buttons above: we may earn a commission from Bookshop.org, whose fees support independent bookshops; as an Amazon Associate schoolreadinglist.co.uk earns from qualifying purchases.
Books for year 2 video
Below is a video containing all our year 2 book ideas as a quick-fire video – suitable for classrooms, projectors, wall panel displays, school libraries and sharing on school websites and social media.
How many Year 2 books have you read?
Here's a free background wallpaper of our recommended year 2 books list to use on your classroom computer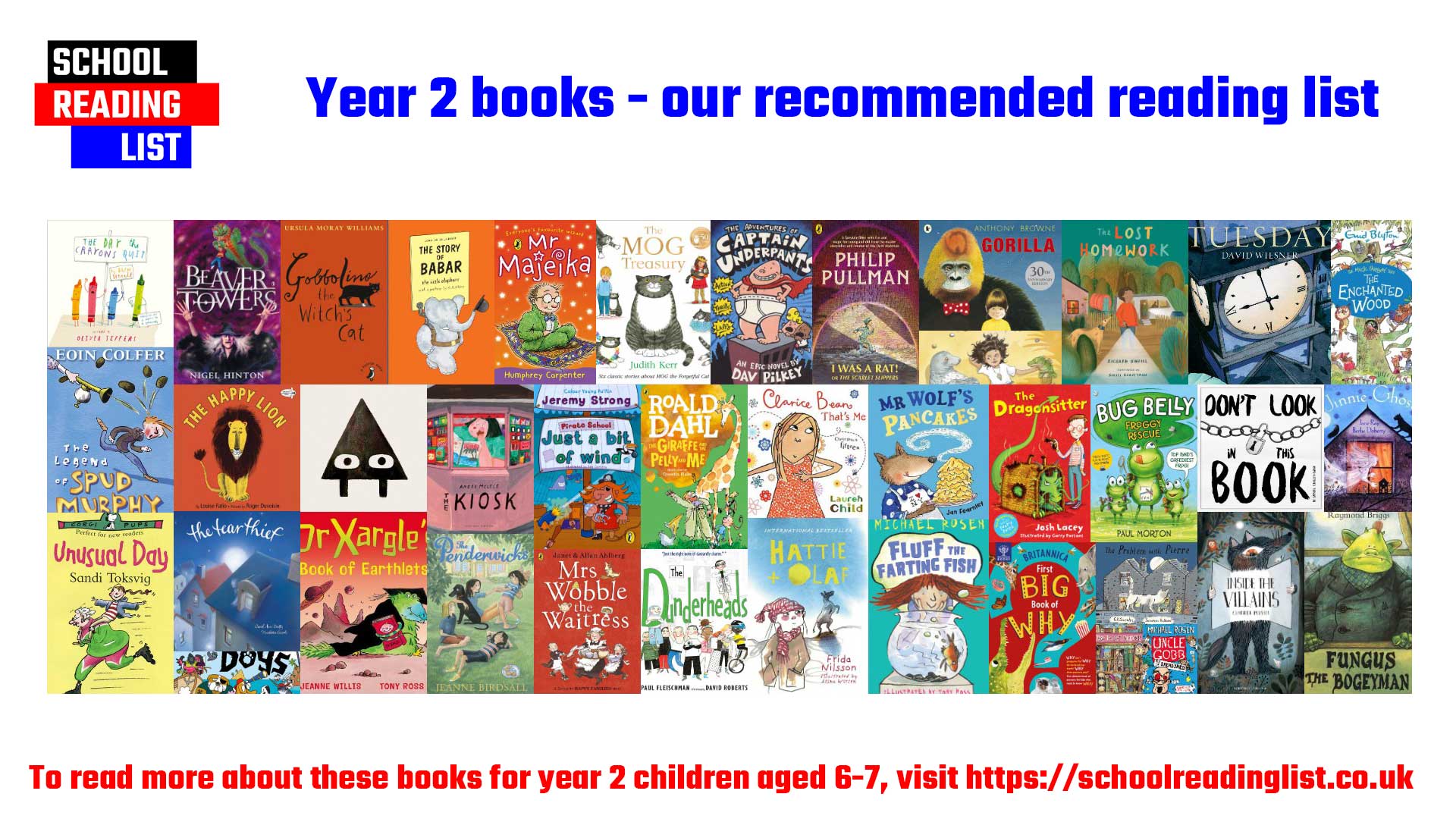 Schools & teachers: please respect copyright and don't copy our Year 2 book list. If you find our book recommendations useful, please consider sharing on social media or linking to this page instead. Thanks.
Books for Year 2 – what titles to recommend to children
In Year 2, the transition from picture books to books with longer text and short chapter books plays a crucial role in advancing children's reading skills. It's an opportune time to introduce them to narratives with more extended storylines and basic chapters, fostering the development of sustained focus and comprehension. Consider recommending books and collating a booklist for Year 2 students that strikes a balance between engaging illustrations and increased text complexity, gradually challenging them to follow more intricate plots. This transition allows Year 2 readers to experience a sense of accomplishment as they navigate through slightly more extended narratives, preparing them for the broader literary landscape they'll encounter in the subsequent years of their reading journey.
What reading age should a Year 2 child be?
Year 2 children are generally expected to have a reading age ranging from 6 to 7 years old. It's important to recognise the diversity in children's developmental trajectories, acknowledging that some may surpass this average while others may require additional support. A well-curated year 2 booklist can help with this. National Curriculum guidelines ensure teachers can offer targeted assistance, provide suitable reading materials and create an enriching reading environment. Regular assessments and open communication between educators and parents contribute to a comprehensive understanding of each child's progress, enabling personalised support tailored to their literacy development.
---
Click for more children's reading book recommendations – Picture books to read before you are 5 years old | Reception books | Year 1 books | Year 2 books (this page) | Year 3 books | Year 4 books | Year 5 books | Year 6 books | Topic books | KS3 books
---
If you liked our year 2 book list, why not try our Books for Year 1 reading list or our list of recommended picture books? We also have a great list of pirate-themed books for topics in year 2.
For even more books for 6-year-olds, see this list.
For more difficult titles, try our Books for Year 3 reading list.