Books for Year 1. This list contains suggested stories to appeal to children in Year 1, aged 5-6 years old, in primary school classes. Our reading recommendations include a range of titles to cover all ability ranges including the less able and the more able. We aim to provide teachers and parents with a wide variety of book choices to read together with your child or encourage them to begin to read independently and develop a life-long love of reading. This list is reviewed regularly and features authors including Satoshi Kitamura, Poonam Mistry, Eric Carle, Chris Riddell, Cressida Cowell, Michael Rosen, Judith Kerr, Joseph Coelho and Mini Grey.
As an Amazon Associate schoolreadinglist.co.uk earns from qualifying purchases.
---
Books for Year 1 – our recommendations
---
Click the buttons below to purchase all of the books in this Year 1 reading list, as well as class sets of any of these books and many more, from Bookshop.org UK. Or buy the 20 most popular titles from this list from Amazon – ideal for gifts or your classroom library.
Buy from UK.Bookshop.Org Buy from Amazon.co.uk
Disclosure: If you buy books using the buttons above: we may earn a commission from Bookshop.org, whose fees support independent bookshops; as an Amazon Associate schoolreadinglist.co.uk earns from qualifying purchases.
Books for year 1 video
Below is a video containing all our year 1 book recommendations in a convenient five-minute movie format – suitable for meetings, training, assemblies, school libraries and sharing on online learning platforms, social media, and intranets.
How many Year 1 books have you read?
Here's a free background wallpaper of our recommended year 1 books list to use on your classroom computer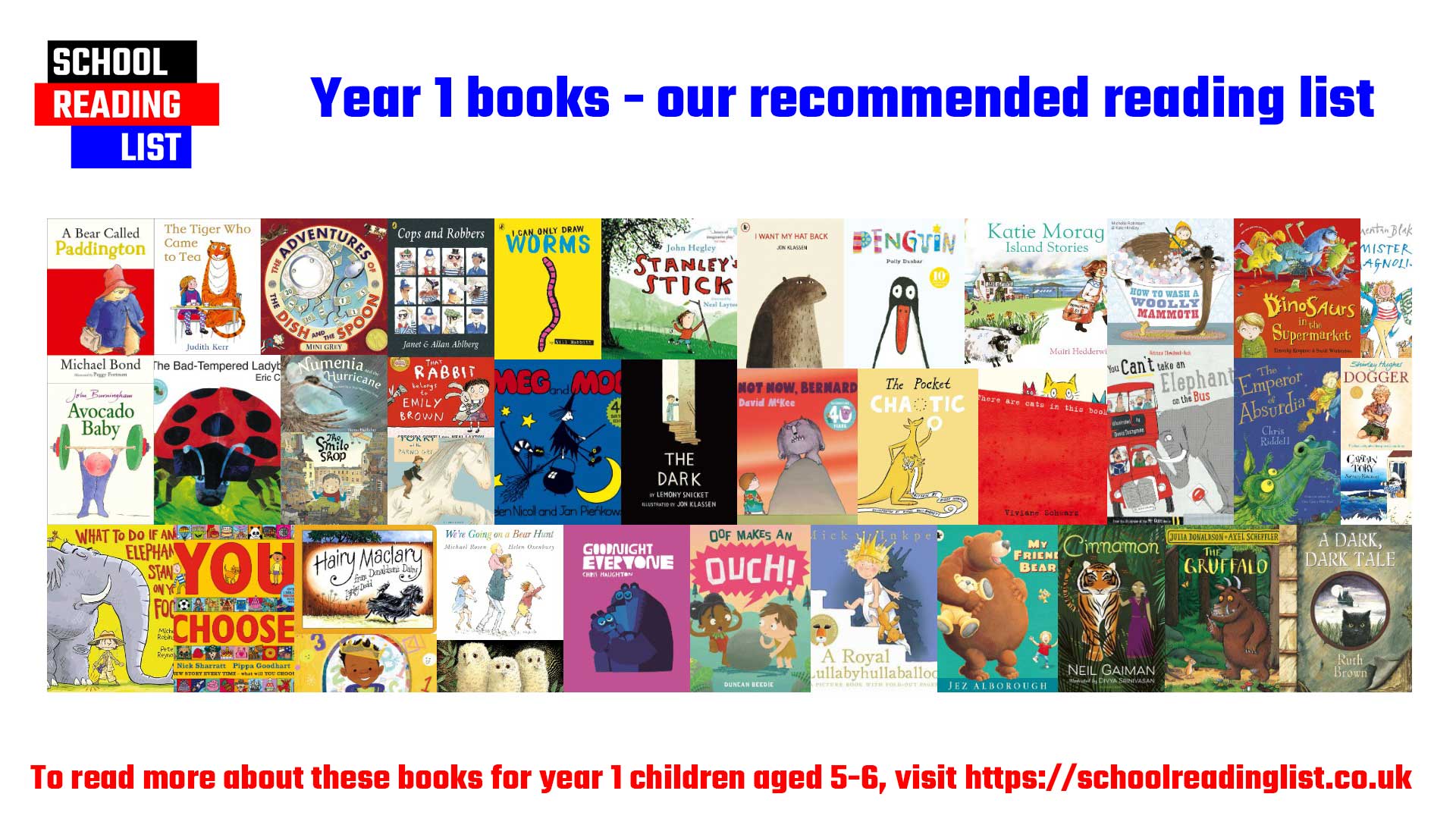 Schools & teachers: please respect copyright and don't copy our Year 1 book list. If you find our book recommendations useful, please consider sharing on social media or linking to this page instead. Thanks.
Books for Year 1 – what titles to recommend to children
For Year 1 children, it's beneficial to recommend books that align with their developing reading abilities and interests. Consider introducing engaging picture books with simple narratives and repetitive text to support early reading skills. Gradually progress to early readers with short sentences and a larger font. To support reading development, popular series like Oxford Reading Tree, Read with Biff, Chip & Kipper, or Phonics Bug can be suitable. Additionally, incorporating classic stories and introducing a variety of genres helps foster a love for reading. Titles like The Gruffalo by Julia Donaldson, We're Going on a Bear Hunt by Michael Rosen, and Captain Toby by Satoshi Kitamura are often enjoyed by Year 1 students. As children have diverse interests, offering a mix of fiction, non-fiction, and poetry can cater to their varied tastes and contribute to their overall literacy development.
Why is reading important in Year 1?
In Year 1, reading plays a pivotal role in academic and personal development. Reading skills acquired during this foundational year lay the groundwork for future academic success. In Year 1, children are at a crucial stage of building a positive relationship with books and learning to decode written language. Reading also sparks imagination, creativity, and empathy, nurturing essential qualities in their early years. The importance of reading in Year 1 extends far beyond the classroom, influencing various aspects of a child's cognitive, emotional, and social growth.
---
Click for more children's reading book recommendations – Picture books to read before you are 5 years old | Reception books | Year 1 books (this page) | Year 2 books | Year 3 books | Year 4 books | Year 5 books | Year 6 books | Topic books | KS3 books
---
For even more year-one books, see this list.
For picture books, see our list of 100 picture books to read before you are five or try our list of Reception books.
For more challenging reads for your child, why not try our Books for Year 2 suggested reading list?