Thieves' Gambit by Kayvion Lewis – at a glance
The School Reading Lists' five word review: Globe-trotting, crime, thriller, heist, adventure.
Children's book title: Thieves' Gambit.
Children's author: Kayvion Lewis.
Genre: Crime thriller.
Published by: Simon & Schuster.
ISBN: 9781398522121.
Recommended for children aged: 14+ year-olds.
First published: Paperback September 2023.
This children's book is ideal for: KS3&KS4 crime and adventure fans.
---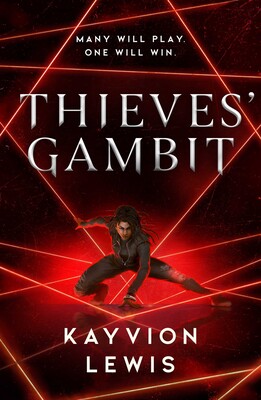 To see the latest price or order, click on the book cover image.
---
Our review:
A Quest can't trust anyone in this world – except for a Quest.
Born into a legendary thieving family, seventeen-year-old Rosalyn Quest has always lived by the family motto – 'trust no one'. Her life is a patchwork of lies and fake IDs. Her skills at lock picking, memorizing blueprints and squeezing into enclosed spaces are far more reflective of her twisted reality than the school transcripts she's been secretly faking to try and get a place on a summer gymnastics programme. Unbeknownst to her family, Rosalyn wants out. Fed up of double-crossing and stolen riches, she wants a normal life of college campuses and friends she can be herself with.
My fingers itched the way they always did when I was about to steal something. But they weren't itching for treasure this time, I was stealing my own future back.
Just as she's offered a place on the course of her dreams, Rosalyn is forced to accompany her mum on another heist. Only this time she plans to use the trip as cover to escape both her over-bearing family and their shady lifestyle.
But despite meticulous planning, things go drastically wrong. Rosalyn's mum is kidnapped and the ransom is set at a staggering billion dollars. Rosalyn's only hope to get her mum back is to join the Thieves' Gambit, a deadly globe-trotting competition for young thieves. The winner – if they survive – can ask for anything they like, money no object. Rosalyn's fellow competitors include her childhood friend turned nemesis and a potential future more-than-friend. But with stakes this high, the Quest family motto and Rosalyn's own courage are soon put to the test and she's forced to question how far she'll really go to save her mum's life.
Thieves' Gambit is a fast-paced, intelligent thriller. Rosalyn is a highly capable, charismatic protagonist. She is smart, savvy and brave, fiercely loyal to her family even as she grows increasingly disillusioned with their dishonest lifestyle. It's refreshing to see her outwit her opponents by intelligence and skill rather than the violence that is often the case in this genre of YA fiction.
The details of Rosalyn's twisted home life are compelling. The fridge has a lock on it, not to control binge-eating, but to practice safe-cracking skills. Car keys go missing to encourage hot-wiring expertise. This is not your typical family set-up.
The shifting loyalties and dubious morals of Rosalyn's fellow Gambit's competitors keep the reader on their toes as they, like Rosalyn, struggle to work out who can be trusted. The adult manipulation of the teenage thieves and their casual attitude to 'accidental' violence is both disturbing and enthralling. The book builds to an exciting climax and sets the scene for a hopeful sequel.
With the film rights to the book having already been sold, a large-scale publicity and social media campaign is planned for the autumn for this Oceans 11 meets The Hunger Games thriller.
Thieves' Gambit is a gripping read that will appeal to fans of The Hunger Games and This Book Kills.
Many thanks to Simon & Schuster for the review copy.
---
If you like Thieves' Gambit by Kayvion Lewis you might also like: our reviews of This Book Kills by Ravena Guron, You Think You Know Me by Ayaan Mohamud, Crossing the Line by Tia Fisher, Unraveller by Frances Hardinge and The Isles of the Gods by Amie Kaufman.
---
Browse our list of books for year 10.