Build a Castle – at a glance
The School Reading Lists' five word review: 3-D construction for imaginative minds.
Children's book title: Build a Castle.
Children's author: Paul Farrell.
Genre: Children's activity.
Illustrated by: Paul Farrell.
Published by: Pavilion Children's Books.
ISBN: 9781843654469
Recommended for children aged: 9-14.
First published: Paperback March 2020.
This children's book is ideal for: KS1 story journeys, KS2 art, and creative writing, an alternative resource for KS3 medieval realms.
---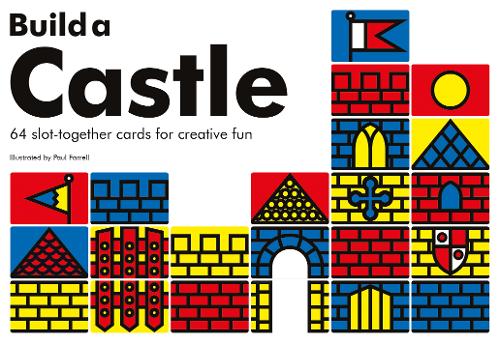 To see the latest price or order, click on the book cover image.
---
Our review:
Build a Castle is a fascinating and original kit to create unique and striking 3-D castles using interlocking cards. Comprising of 64 stylised pieces, each with eight connection slots, sections of the castle can be constructed in every direction and plane.
There are ten different varieties of design- each a different architectural feature: flags, turrets, battlements, outer walls, arrow slits, windows, arches, heraldry, doors, and a portcullis.
Ideal for KS2 and KS3, this kit will appeal to children who are able to concentrate and use their lateral thinking to create unique designs. No two children will create the same castle with sets of 'build a castle', and the variety of building techniques will lead to a diverse range of creations across a class.
Using Build a Castle in the classroom
With imagination and planning, there are a plethora of curricular and co-curricular uses for this product across primary and early secondary ages ranges.
The architectural aspects of each of the ten types of the cards could form the basis of a research topic within KS3 history, examining castle construction and life in KS3 medieval realms. The vibrant pop-art style of the individual cards also fit well with KS3 modern art teaching units, making this kit a good resource for cross-curricular teaching. The artwork style, while stunning, is also teachable and achievable for KS3 pupils to study and reproduce in their own style. It's also worth looking at Paul Farrell's book Great Britain in Colour which explores familiar landmarks and architecture in a distinctive pop art style. The accessible and punchy style would also work with an extended individual or group project. For example: could you paint a pop art version of your school or create a set of cards to put together your dream home?
In EYFS and KS1 – this set of cards would be ideal for creating a visual and editable representation of a castle for group writing, imagination journeys, class ideas for stories or looking at specific parts of a story, for example, what might be inside the castle, what would happen if the portcullis is lifted or who might live inside a castle like this? A finished castle model would also make a great 3D illustration for a class story display.
In KS2 – this kit lends itself to more specific writing tasks, for example, descriptive writing – focussing in on specific aspects of a castle, slowing down the writing to describe the sights, sounds, textures, and smells of the walls, windows, doors or heraldry. The physical process of building a castle could also be described for instructional writing, and the different architectural aspects of the cards could form the basis of a research and glossary project, or a visual dictionary, or an extended writing task.
Our verdict
Build a Castle has great potential as a classroom resource in KS1, KS2, and KS3. With imagination and lateral thinking, this kit can be used to help form ideas for stories, build description and help structure and sequence ideas for procedural and informational writing. Promoting thought and concentration 'Build a Castle' requires the child to visualise the whole building in three dimensions. It's less Lego and more construction with a Rubik's cube mentality. In KS3 there's a great opportunity to link the graphic art and pop art style to medieval realms units in history – with the potential for highly creative classwork – a uniquely useful aspect to this cleverly designed pack of cards.
Many thanks to Pavilion Children's for a review copy.
If you like this book you might also like Stephen Biesty's Cross-Sections Castle by Richard Platt and Stephen Biesty, Great Britain in Colour by Paul Farrell, The Lego Castle Book: Build Your Own Mini Medieval World by Jeff Friesen, Build! A Knight's Castle: Pop Out and Build a Castle Battle Scene by Annalie Seaman, Charlie Simpson, and Rob Turpin, and Inside Out Medieval Castle: Explore the Ancient Fortress Behind the Iron Gates! by Justine Ciovacco.
---
Why not have a look at our castle topic book list and our STEM games and resources page.
Please respect copyright and don't copy or reproduce our content. Sharing on social media or linking to our site's pages is fine. Thanks.