Scarygirl Film Tie-In: The Origin Story by Nathan Jurevicius – at a glance
The School Reading Lists' five word review: Graphic Novel, Identity, Friendship, Belonging.
Children's book title: Scarygirl: The Origin Story.
Children's author: Nathan Jurevicius.
Genre: Children's Fiction/Graphic Novel, Wordless Picture Book.
Published by: Allen & Unwin
ISBN: 9781761069277.
Recommended for children aged: 8+.
First published: September 2023.
This children's book is ideal for: Discussing how a story can be told without words.
---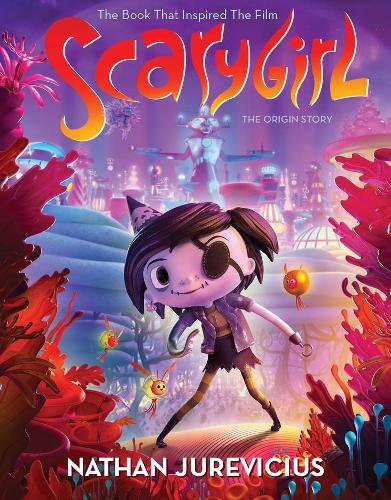 To see the latest price or order, click on the book cover image.
---
Our review:
Scarygirl is a girl with a problem, well quite a few actually such as who is she, where is she, and whose face keeps appearing in her dreams? Dumped with a pile of rubbish at the base of a tree near the ocean she is befriended by a giant octopus who provides a home for her and determines to keep her safe. When a giant rabbit and an egg come to visit she tells them about the man she needs to find who is haunting her dreams and who the octopus doesn't want her to look for.
The journey they undertake is long and complex and the companions travel from the coast, through a rugged landscape towards a city they hope holds all the answers. During their travels, they meet others who all have their own reasons for being in the wilderness but will the journey be a success or was the octopus right to be concerned?
Our verdict:
It is, I have discovered, quite difficult to review a book which only uses examples of onomatopoeia when pictures alone won't suffice! There is, thankfully, a list of characters at the beginning listing likes, dislikes, and short personal descriptions. The characters all have names but without words, they are never used.
The illustrations throughout are wonderful and there is far more in each picture than first meets the eye. One advantage of this graphic novel is that one visit isn't nearly enough. Finished in one sitting, I referred back to it as I reviewed it which provided more insight and it is definitely worth returning to more than once.
There are original drawings from the author's pre-production notebook in a section after the main story is complete and the imagination shown there was an added pleasure. There is also a map which was a great addition.
Overall I thoroughly enjoyed my first venture into graphic novels and I think the lack of words levels the playing field as far as reluctant readers are concerned rather than causing any difficulties. I am sure I have yet to discover everything which happens here and that should be a positive for anyone who likes to read a book over and over as they will continue to discover something new on each visit. I will absolutely be reading this again to see what else I can take from it.
Discussion ideas and activities
Do students think everyone will understand the main point of a story if there are only illustrations to base that understanding on?
How do the first few pages of this book relate to the blurb on the back compared to another story recently read in class?
Could you plan and draw your own comic strip or graphic novel? This could be used as both a literary and artistic prompt to produce cross-curricular pieces of work.
Do you 'read' a graphic novel and if not what are you doing?
Many thanks to Allen & Unwin for the review copy.
---
To order a class set of this book, please click below to order via uk.bookshop.org, an organisation that supports local bookshops, or Amazon.co.uk.
Buy from UK.Bookshop.Org Buy from Amazon.co.uk
Disclosure: If you buy books using the buttons above: we may earn a commission from Bookshop.org, whose fees support independent bookshops; as an Amazon Associate schoolreadinglist.co.uk earns from qualifying purchases.
---
If you like Scarygirl Film Tie-In: The Origin Story by Nathan Jurevicius you might also like: Super Space Weekend: Adventures in Astronomy by Gaëlle Alméras, Peanut, Butter & Crackers: River Rescue by Paige Braddock, The Fantastic Electric Mash-up Machines: Obstacle Attack! by Tyler Byrd and N.S Blackman, Agent 9: Flood-a-geddon! by James Burks and Peter in Peril by Helen Bate.
---
Browse our lists of graphic novels for KS2