Nikhil and Jay: Off to India by Chitra Soundar – at a glance
The School Reading Lists' five word review: Family, India, Christmas, culture, fun.
Children's book title: Nikhil and Jay: Off to India.
Children's author: Chitra Soundar.
Children's illustrator: Soofiya.
Genre: Early readers.
Published by: Otter-Barry Books.
ISBN: 9781915659118.
Recommended for children aged: 5-7 year-olds.
First published: Paperback September 2023.
This children's book is ideal for: Emergent readers.
---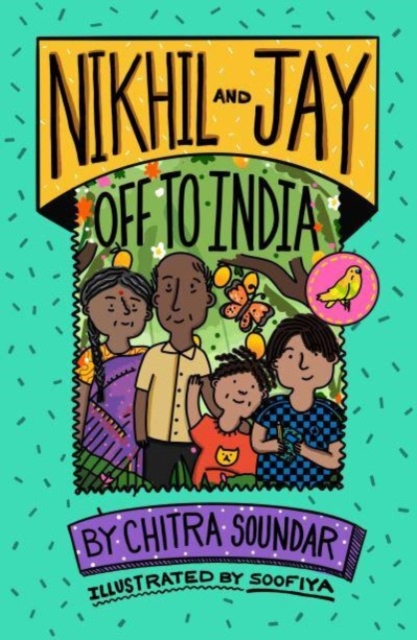 To see the latest price or order, click on the book cover image.
---
Our review:
Nikhil and Jay: Off to India contains four interlinked stories, covering brothers Nikhil and Jay's trip to India.
Missing Max – Nikhil and Jay are looking forward to going to Chennai to spend Christmas with their grandparents. Although they're sad to leave Max the Cat behind with their Aunty Nur, the parrots, butterflies and coconut trees in Grandad's garden are really exciting. And they get to speak to Max on the phone!
Catch Me If You Can – Nikhil and Jay spend the day on the beach. They race the waves and enjoy Granny's delicious sweets.
The beach wasn't very busy at that time of the day. There were vendors with carts selling roasted and steamed peanuts, corn and slices of raw mango.
A Christmas Star – Christmas in Chennai is very different to in England. There's a jasmine plant instead of a fir tree, decorations made from leaf garlands and Indian sweets instead of mince pies. But Nikhil and Jay are worried that Father Christmas won't find them so far from home…
Hello From The Future – Nikhil and Jay stay up until midnight to watch the New Year fireworks. And then they phone home to speak to Max the Cat to wish him a Happy New Year too!
Granny lit the lamp exactly at midnight.
Grandad wished everyone "Puthaandu Nal Valthukkal".
"What?" asked Nikhil.
"Happy New Year!" said Amma. "In Tamil."
Nikhil and Jay: Off to India is the third book in this Early Readers series about a British Asian family, inspired by the author's own upbringing. It is ideal for emergent readers who want to develop their confidence by moving on from picture books. The accessible language is complemented by cheerful and bold illustrations. The short chapters and extensive dialogue make for an engaging and satisfying read. Further books in the Nikhil and Jay series are planned and a TV series is in production.
Nikhil and Jay's Guide to New Words provides a useful glossary for the Tamil words used in the book, which the boys try to learn from their grandparents. There is also a delicious-looking recipe for Kesari – an Indian pudding made with semolina and sugar.
Nikhil and Jay: Off to India is an accessible read for newly independent readers who want more realistic and representative stories than those often found in prescriptive reading schemes.
Many thanks to Otter-Barry Books for the review copy.
---
If you like Nikhil and Jay: Off to India by Chitra Soundar you might also like: our reviews of Peanut, Butter & Crackers: River Rescue by Paige Braddock, The Moon is a Ball by Ed Franck and Thé Tjong-Khing, The Cartoons that Saved the World by Tom Ellen, Rita's Rabbit by Laura Mucha and Hannah Peck and Big Sky Mountain by Alex Milway.
---
Browse our list of books for year 1 and our list of books for year 2