Merry Whatmas? by Eoin McLaughlin and Polly Dunbar – at a glance
The School Reading Lists' five word review:First Christmas, friendship, discovery, meaning.
Children's book title: Merry Whatmas.
Children's author: Eoin McLaughlin.
Children's illustrator: Polly Dunbar.
Genre: Children's fiction.
Published by: Faber Children's .
ISBN: 9780571379514.
Recommended for children aged:Baby to 6.
First published: Paperback October 2023.
This children's book is ideal for: Thinking about the different meanings of Christmas depending on who you are.
---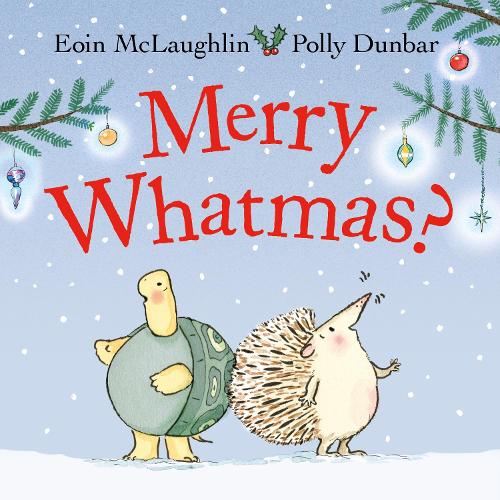 To see the latest price or order, click on the book cover image.
---

Our review:
Hedgehog and Tortoise have never celebrated Christmas before and they are finding it a little confusing! All of their friends seem to love it but for different reasons. Is it the food, or the presents, or even the decorations? The two young friends have no idea what they should like most but maybe, together, they can work it out.
Our verdict:
This is a lovely book about what Christmas should be about seen through the eyes of Hedgehog, Tortoise, and their friends. Each page covers a different friend and their favourite part of the preparations for the big day and how each of them knows all about what they like best.
By the final page, which has my favourite illustration, Hedgehog and Tortoise will have worked out what Christmas means to them, what is most important and why.
Discussion points
Does it matter if everyone doesn't agree with what the most important thing about it is and can everyone be correct?
This could also be used as a prompt to discuss important celebrations in other religions or cultures so that everyone can join in and not feel left out.
Many thanks to Faber Children's for the review copy.
(While We Don't Hug, also by Eoin McLaughlin and Polly Dunbar)
---
To order a class set of this book, please click below to order via uk.bookshop.org, an organisation that supports local bookshops, or Amazon.co.uk.
Buy from UK.Bookshop.Org Buy from Amazon.co.uk
Disclosure: If you buy books using the buttons above: we may earn a commission from Bookshop.org, whose fees support independent bookshops; as an Amazon Associate schoolreadinglist.co.uk earns from qualifying purchases.
---
If you like Merry Whatmas? Eoin McLaughlin and Polly Dunbar you might also like: Scruff by Alice Bowsher, Last-Place Lin by Wai Chim, illustrated by Freda Chiu, My Dad is a Tree by Jon Agee, I say Oh, You say No by John Kane and Free Kid to Good Home by Hiroshi Ito.
---
Have a look at our Christmas picture book Advent calendar