I say Oh, You say No
The School Reading Lists' five word review: bold, colourful, picture, word, game.
Children's book title: I say Oh, You say No.
Children's author: John Kane.
Genre: Interactive picture book.
Published by: Templar Books.
ISBN: 9781800785120
Recommended for children aged: 0-5 year-olds.
First published: Paperback March 2023.
This children's book is ideal for: small and daring children.
---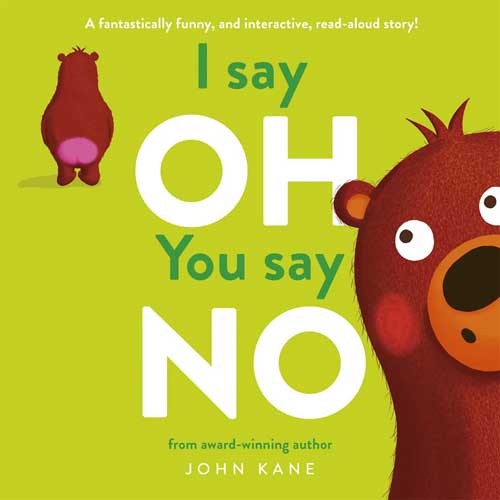 To see the latest price or order, click on the book cover image.
---
Our review:
Small people between the ages of four and ten (and many considerably older than that) cannot help laughing whenever they hear the words bottom, bum (and if you're American) butt. We might as well throw in poo, pump and fart as well. They aren't seriously offensive 'swear words' but they do cross a certain line in the mind of a small child, which makes their use not only funny but daring.
John Kane has made a bold, colourful book centred around a word game. When the book (or the adult reading it) says OH, the child has to answer NO! Another rule is added: whenever the child sees a bee, s/he has to say ME!
So the book seems to know what the reader is going to say, and to answer back, engaging in a question-and-answer, 'pretending' to be confused or impatient with the answers.
I tried this out with the usual crew: me and my grandson. (He'll be five in June.) I can report that, read with the right degree of gusto, drive and intergenerational silliness, it can keep the giggles going for at least half an hour. How much fun can two people get out of shouting BARE BEAR BUTT BEAR to each other over and over again? Quite a lot, let me assure you, especially if they randomly stick in the English equivalents.
And if, in the middle of this raucous, chaotic mayhem, some things are learnt about the language and its curiosities, that two words with different spellings can sound the same but have different meanings, or vice versa, then so much the better.
A definite thumbs-up from us!
Many thanks to Templar Books for the review copy.
---
If you like I say Oh, You say No by John Kane you might also like: our reviews of Ready for Spaghetti by Michael Rosen, illustrated by Polly Dunbar, I'm More Than A Sheep by Bethany Christou, The Little Thing by Nick Cave, Zoom Adventure Series by What on Earth Books & NO! said Rabbit by Marjoke Henrichs,
---
Browse our list of books for preschool children.