Man-Man and the Tree of Memories by Yaba Badoe – at a glance
The School Reading Lists' five word review: Family, carnival, heritage, dance, learning.
Children's book title: Man-Man and the Tree of Memories.
Children's author: Yaba Badoe.
Children's illustrator: Joelle Avelino.
Genre: Children's fiction.
Published by: Zephyr Books.
ISBN: 9781837930074.
Recommended for children aged: 8+ year-olds.
First published: Hardback October 2023.
This children's book is ideal for: Looking at the cultural similarities and differences in leisure activities and how a carnival in Notting Hill, London varies from those in less diverse locations, including the types of food, stalls and floats in the procession.
---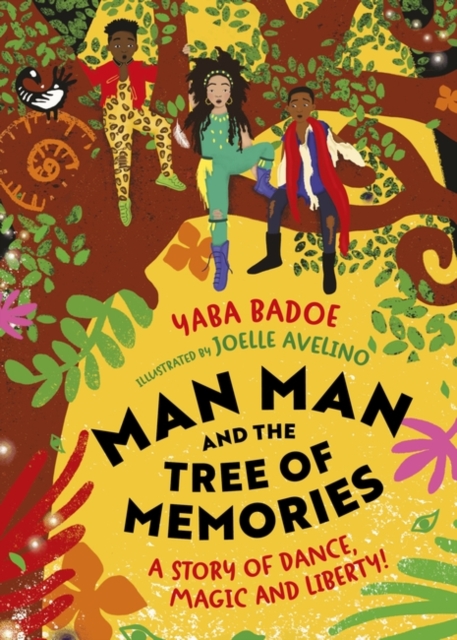 To see the latest price or order, click on the book cover image.
---

Our review:
Man-man is a dancer, as is his sister, Pan, and his mum, Trilby. At least she was, but she has been ill for a while, and can no longer do any of the things she used to. Carnival is coming, however, and all Man-man wants is for his mum to be in the crowd watching as he leads the procession of floats. His Nan has come to help run the household but she is strict and opinionated so, even though everything is much tidier and mum is eating better, Pan and his dad, Jules, are hardly ever home as they want to avoid the stress. Even the cat only comes home at bedtime!
After the practising and costume fittings are completed the first day of the Notting Hill carnival arrives and Man-man, Pan, and his best friend Kareem, are determined to be the best they can be. Man-man has a plan to help Trilby and as they get closer to where she is watching he calls to the Queen of Revels, hoping the deity can return his mum to full health.
Taken in a blink of an eye to the Africa of their ancestors, Man-man, Pan, and Kareem, witness the pain of their forebears and begin to understand how it is causing the suffering of Trilby right now. Is this knowledge enough to break the chain of anguish linking all generations of Man-man's family or in his desperation has his imagination taken flight?

Our verdict:
This is a beautiful book and the work of illustrator, Joelle Avelino, compliments Yaba Badoe's story perfectly. Although the book covers serious topics, relating to slavery, inequality, and generational differences, it is a joyous story with bright, multi-layered illustrations which add depth to every page.
The past Man-man's family endured, and the effects which are still felt, are related through the eyes of Trilby's children and cleverly passed on to her via their strong bond and the power of the Tree of Memories. Although there is a magical element to what happens to Man-man it doesn't detract from the truth, which is woven throughout, nor does it lessen its long-term importance. Instead, it describes things in ways a younger audience can both understand and empathise with.
This is a positive reading experience and the vibrant illustrations on almost every page should draw in even the most reluctant participant in both English and history lessons.
Teaching points and book club discussion ideas:
Discussion on how our heritage shapes the present day, especially with reference to a family's place in a new or relatively new country as well as one they or their ancestors have moved from involuntarily or due to persecution.
Do the wrongs of a regime or historical period affect our experiences today?
Many thanks to Zephyr Books for the review copy.
---
To order a class set of this book, please click below to order via uk.bookshop.org, an organisation that supports local bookshops, or Amazon.co.uk.
Buy from UK.Bookshop.Org Buy from Amazon.co.uk
Disclosure: If you buy books using the buttons above: we may earn a commission from Bookshop.org, whose fees support independent bookshops; as an Amazon Associate schoolreadinglist.co.uk earns from qualifying purchases.
---
If you like Man-Man and the Tree of Memories by Yaba Badoe you might also like: Kofi and the Rap Battle Summer by Jeffrey Boakye, Last Girl In by Cheryl Diane Parkinson, Musical Truth by Jeffrey Boakye, Hello, Universe by Erin Entrada Kelly, One Chance Dance by Efua Traoré and Adia Kelbara and the Circle of Shamans by Isi Hendrix.
---
Browse our lists of books for KS2