The Little Thing – at a glance
The School Reading Lists' five word review: Vibrant colour contrast & thought-provoking.
Children's book title: The Little Thing.
Children's author: Nick Cave
Children's illustrator: Nick Cave.
Genre: Picture book.
Published by: Cave Things.
ISBN: Nick Cave
Recommended for children aged: 3+
First published: Hardback November 2021.
This children's book is ideal for: children aged 3+ who enjoy thinking about what it all means.
---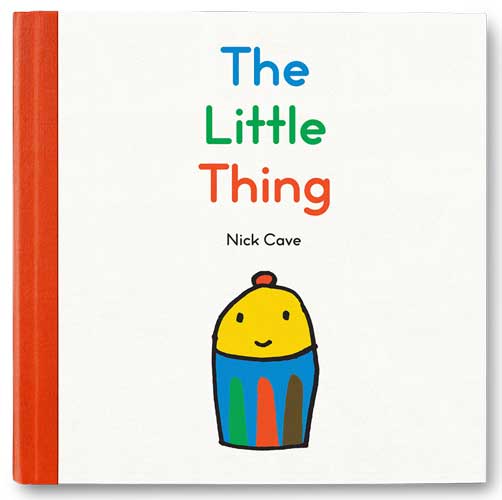 To see the latest price or order, click on the book cover image.
---
Our review:
Written and illustrated by celebrated musician Nick Cave, This Little Thing features vibrant and ultra-high colour contrast illustrations that will intrigue children aged 3+. The hardback format with large print and each character's dialogue on facing pages lends itself to shared reading or possibly as a thought-provoking bedtime story.
This is an interesting and multilayered book. Adopting a reverse Descartes position, it suggests, in answer to what am I, that you are simply you; or possibly even, you are whatever you want to be. The book also occupies a nice Nietzsche niche in suggesting that we're not asking the correct question, and maybe it's more important to be happy with who we are, or not care about what we are, but respond instead to how we are and to what extent we feel happy about that.
Teachers could use this book to provoke discussion in circle time or to spark ideas for classroom displays where pupils could think, write and paint what they think they are, what they would like to be, and how they would like others to see them. The Little Thing is a book that would work well in an "All About Me" EYFS topic.
In KS2, teachers could use this picture book as an accessible introduction to discussing concepts of self and what things are – leading into further discussion of how we know something is something. Peter Worley's chapter "The Chair" in "The If Machine" would be a great way to develop this further in a Philosophy for Education or PSHE lesson.
Nick Cave said:
'The Little Thing' is a story I wrote for my three-year-old neighbour, Esme. I drew the pictures too, in case you're wondering. It is the tale of a little thing that goes on an epic adventure to discover the true nature of its identity. "What am I?" asks The Little Thing. Along the way, it meets a cast of diverse characters—including a tomato, a toilet roll, a showerhead, a cupcake, and a corn on the cob, that guide The Little Thing toward its final joyous realisation.
Many thanks to Cave Things for the review copy. Nick Cave is an award-winning Australian singer-songwriter best known for his work with Nick Cave and the Bad Seeds.
If you like The The Little Thing by Nick Cave you might also like: our list of All About Me topic books, A Million Dots by Sven Völker, Happy Healthy Minds by The School of Life, Little Big Feelings by Dr Janet Rose, Build a Castle by Paul Farrell and The Sister Who Ate Her Brothers by Jen Campbel.
---
Browse more books for EYFS