The Boy Lost in the Maze – at a glance
The School Reading Lists' five word review: Poetic, innovative, mythological, absorbing, involving.
Children's book title: The Boy Lost in the Maze.
Children's author: Joseph Coelho.
Children's illustrator: Kate Milner.
Genre: Verse novel.
Published by: Otter-Barry Books.
ISBN: 9781913074333
Recommended for children aged: 14+
First published: Hardback October 2022.
This children's book is ideal for: KS4.
---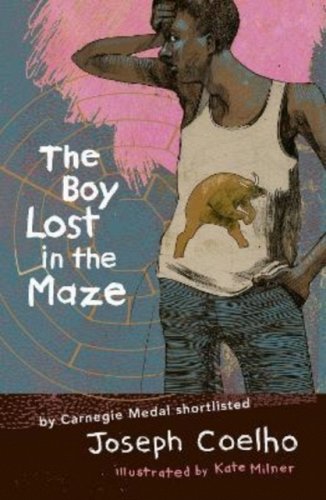 To see the latest price or order, click on the book cover image.
---
Our review:
Seventeen-year-old Theo is searching for his father and struggling with his Black identity, having been brought up by his White mother. Encouraged by his English teacher, Theo embarks on an ambitious piece of A-Level coursework – rewriting the Greek legend of Theseus and the Minotaur in a series of poems. As he delves deeper into the mythology, Theo finds parallels in his own quest for belonging and the desire to prove himself, as the two boys find themselves at the centre of their own mazes of discovery.
This innovative novel in verse by the newly appointed Waterstones Children's Laureate entwines the stories of two teenage boys separated by centuries yet united by their desire for purpose and belonging. Alternating between Theo's and Theseus' tales, the poems range from free verse to strict rhyming patterns, cleverly integrated with Theo's English teachings on poetic forms.
As Coelho explains in the author's notes, there are varying interpretations of the Greek legends and here are both Coelho and Theo's versions of the Theseus legends, with the Minotaur given a voice of its own in selected chapters. Rather than a mindless beast, he is portrayed as a victim of his parents' cruelty, who is loved and saved by his sister.
"You will be a god-king."
She comforts me with lies
when the darkness creeps
and I cannot sleep
and the shadows fall over my eyes.
The descriptions of Thesus' trials are gruesomely described and the violence is extreme in places, making the book unsuitable for young readers. In contrast, Theo's relationship with his teacher is touching in its sincerity, highlighting the fact that father figures are not always those we are related to.
Before I know it
I'm telling Sir everything that's happened
and he just listens

Listens like light listens to darkness
Listens like the sea listens to the shore
Listens like mountains listen to snow.
Illustrated by the Kate Greenaway Award nominated Kate Milner, who also illustrated Coelho's first novel in verse The Girl Who Became a Tree, this is a unique and immersive tale. There are elements of the choose your own adventure books where the reader can make the story their own by choosing which action Theo or Theseus should take at key points in their stories. The (sometimes literal) dead ends these choices can result in, reflect the twisting maze of each boy's journey and add an appealing sense of ownership to the tale.
The poetic nature of the text makes it a quick and accessible read which is likely to appeal to reluctant readers, particularly boys given the male-dominated storylines. Coelho's expertise as a performance poet is clear and the book would benefit from being read aloud in order to appreciate the poems' rhythm and pace.
The Boy Lost in the Maze is a clever and original tale that makes for an impressive start to Coelho's tenure as Children's Laureate.
Many thanks to Otter-Barry Books for the review copy. The Boy Lost in the Maze by Joseph Coelho is our fiction book of the month for October 2022.
---
If you like The Boy Lost in the Maze by Joseph Coelho you might also like: our reviews of The Silver Chain, written and illustrated by Jion Sheibani, Unraveller by Frances Hardinge, Notes on my Family by Emily Critchley and When Shadows Fall by Sita Brahmachari.
---
Browse our list of graphic novels for 12-16-year-olds.