Best Friends Forever by Lisa Williamson – at a glance
The School Reading Lists' five word review: Friendship, growing-up, changes, family, adolescence.
Children's book title: Best Friends Forever.
Children's author: Lisa Williamson.
Children's illustrator: Jess Bradley.
Genre: Children's fiction.
Published by: Guppy Books.
ISBN: 9781913101558.
Recommended for children aged: 9-12 year-olds.
First published: Paperback October 2023.
This children's book is ideal for: Reading before discussing one of the biggest changes students go through – the move from junior to senior school – and what the first term could entail both personally and educationally. There is also an account of Lola's home life running throughout which will resonate with many children.
---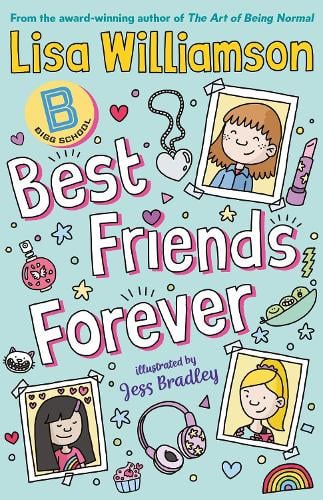 To see the latest price or order, click on the book cover image.
---
Our review:
Lola is literally starting big school, because, with her best friend Evie, she's going to Henry Bigg Academy!
She and Evie have been best friends FOREVER after their mums met at a local mother and baby group. They finish each other's sentences, laugh at the same things, like the same gooey, creamy puddings, and understand what matters to each other, in fact, they're like two peas in a pod! With everything that's been happening at home, Evie has been there for Lola whenever she's needed her, which has been quite often since her parents just recently got divorced.
At senior school however, they're going to be in different tutor groups for the first time ever and Lola isn't happy, even if they've arranged to have lunch together every day! Then Evie makes a new friend almost straight away, even inviting Chloe to join them for lunch where she never eats anything but fruit for dessert!
After a Halloween school disco is announced things go from bad to worse, with the two friends falling out while Chloe is on the receiving end of a huge public Lola blowout! How can she even consider going back to school or get Evie to realise just what a bully and show off Chloe is before it's too late? The answers are all there for Lola if only she can stop for a moment and realise what she needs to do.
Our verdict:
This is a relatable, empathetic book, whose main protagonists are great characters with realistic problems they need to solve. The difficulties encountered at senior school are ones which have been and will be experienced by hundreds of eleven-year-olds each September for decades. I would think only positive outcomes could be expected by discussing what happens to Lola and Evie with pupils either at the end of year 6 or the start of year 7.
The author doesn't sugarcoat anything nor does she make the problems insurmountable, successfully showing that, even if you are suddenly part of a far bigger community than ever before, most people will come out the other side older, wiser, and ready to face life head on!
The only omission, for me, is that there is almost no mention of social media and the effects it can have, especially as Chloe seems to be someone who would be a big fan of all the well-known sites. This is very girl-oriented but the second book, due to be published in April next year, is about Daniel, a year seven student who has a small walk-on part this time around.
Many thanks to Guppy Books for the review copy.
---
To order a class set of this book, please click below to order via uk.bookshop.org, an organisation that supports local bookshops, or Amazon.co.uk.
Buy from UK.Bookshop.Org Buy from Amazon.co.uk
Disclosure: If you buy books using the buttons above: we may earn a commission from Bookshop.org, whose fees support independent bookshops; as an Amazon Associate schoolreadinglist.co.uk earns from qualifying purchases.
---
If you like Best Friends Forever by Lisa Williamson you might also like: The Final Year by Matt Goodfellow, illustrated by Joe Todd-Stanton, The Not-So-Uniform Life of Holly-Mei by Christina Matula, Growing Up Powerful by Nona Willis Aronowitz and Our Beautiful Game by Lou Kuenzler.
---
Browse our lists of books for KS2