Are you looking to up-skill during downtime? Are you a literacy or English teacher in need of evidence of CPD for your next 360-degree appraisal or review? Here's our regularly updated list of online training, remote courses, distance learning research-based CPD and internet-based inset for teachers – with an emphasis on literacy, reading, writing, creativity, online learning, E-learning, home learning and cross-curriculum design.
A lot of teachers we've spoken to recently have spoken of being asked to complete CPD tasks at home, while in self-isolation or periods at home during a timetable rota. Also, other readers have raised a need for effective and innovative training for the online lessons and internet-based content they are being asked to create – often from scratch. So we've put together this list of resources.
There's a range of free, introductory, professional and paid accredited learning packages that include certification for CPD and evidence for performance management and 360 career profile appraisal – many of which are available on trial packages, special promotions during the COVID-19 / Coronavirus pandemic period, or for free. We've also added a list of hardware, software, equipment and ideas for facilitating online, interactive and live lesson broadcasts.
How to deliver live classes, lessons, and online school broadcasts
CPD and courses on live broadcasting techniques and delivering great online lessons using Zoom, Microsoft Teams and more
E-learning, developing online courses and broadcasting live lessons
Online tools and websites to promote home-based learning and deliver remote E-learning courses
Podcasting
If you are a supply teacher, a consultant, or a teacher who needs to be able to deliver audio content live and/or on-demand, then podcasting is a great addition or alternative to Zoom, Teams, or other video platforms. It's also a good option if your school doesn't have the resources or money to run a large-scale Zoom or Teams subscription. Podcasts also require far less bandwidth and are much more accessible to pupils and homes with poor broadband connections or unreliable mobile connectivity. Podcasts allow for live streaming or on-demand listening. They can be downloaded to pupils' devices and replayed an unlimited number of times. There's also some provision for comments and feedback on both live and stored podcasts, and the podcasts can be made public or private depending on the audience. It's also possible to include links to other websites, videos or resources, as part of the podcast description. If your lessons include a lot of content, delivery of information and talking, then podcasts are a good option and much less hassle than streaming video platforms. Udemy offers a handy course for teachers who want to learn how to improve their voice when delivering online broadcasts, particularly podcasts.
We recommend Rode podcasting equipment and microphones. The Rodecaster Pro mixer and Rode PodMics are well built, sturdy and highly intuitive and accessible. For podcast hosting, we recommend Buzzsprout, a podcasting hosting platform that offers a range of packages from free – for a few hours of material – to enterprise level – offering unlimited storage – and lots of options in between. We use Rode and Buzzsprout for all our podcasts to ensure high audio quality. However, it is possible to create a podcast with just a mobile phone or a laptop.
When education is safely in person, the same equipment is ideal to use for a podcasting club activity with pupils, English lesson activities (particularly for speaking and listening, debating, rhetoric and presentations), delivering on-demand staff inset, or providing on-demand revision material for pupils to access remotely at home.
Live broadcasting and online teaching equipment, software and hardware
Advice – to ensure engagement, use platforms your pupils already know and can easily engage with – the more engagement, the more likely your lessons will be a success. Also, choose platforms that allow you to save and download your lessons for pupils who missed the live broadcast.
The below suggestions are tailored for and aimed at online literacy and English lessons, live book readings, modelling writing, demonstrating performance, displaying examples of great work, integrating internet browsers, videos, word documents, live typing, whiteboard screens, PowerPoint presentations, quizzes and integrating competitions into your live lessons.
Recommended kit and tech gear to deliver a live broadcast lesson
If you want to look professional, slick, and have access to the latest techniques and gizmos, take a look at the apps and kit paid YouTubers and live streamers use to engage their audiences.
Hardware
Cameras
Microphones
It's important to pick the right type of microphone – the wrong one might be too quiet, distorted when turned up or result in 'tunnelling'. And there's nothing worse than 20 year 9s all grumble-mumbling at you to turn it up or speak clearly… Generally, dynamic mics capture sounds close to them, while condenser mics are better for capturing a room. The guides below clearly indicate which situations work for each particular microphone.
Lighting
Look bright and engaging and fill your room with light. There's nothing more disturbing than a shadowy figure in a dimly lit room!
Backgrounds and green screens
If you're worried about the whole of Year 7 seeing your peeling wallpaper, consider a green screen. With one of these, your background can be sparkling white, black, or an exotic background of any photo or moving image from around the world. Here's a quick guide.
Creating and setting up a school studio for live broadcast lessons
If your school is setting up an on-site studio for online lessons, Elgato is a great one-stop shop for lighting, capture, green screens, and multiple source broadcasting.
Prerecorded lessons
If you plan to prerecord some or all of your lessons and incorporate them into live broadcasts (highly recommended, especially if you want to make lessons available to pupils who missed the broadcast, or if you want to reuse lessons), Magix Vegas is easy to use and comes in two versions – pro for broadcast-quality or the cheaper studio, which is still fine for a school Moodle or network.
The industry standard – but more complex to use – is Adobe Premiere for video editing and production and Adobe After Effects for motion graphics (swish animations and graphics like rolling news networks). The good news is Adobe has offers and deals for educators and students at home. You don't have to make your own graphics and animations – Envato Market / Videohive has thousands of stock video and motion graphics templates which cost little or are in some cases free – search for Envato free 'files of the month'. Mixkit also offers lots of free videos and Premiere Pro content to use in your videos. If you need sound effects, the entire BBC library is free to educators.
To give you an example of what can be achieved with Vegas/Premiere/After Effects here's a WAGOLL link (on a third-party website).
Online courses and training for teachers
My Secret #EdTech Diary by Al Kingsley
In this highly accessible book, Al Kingsley explores what works and what doesn't, how Covid has changed the way teachers approach technology, and what is likely to happen in the future. Describing his 30-year journey using tech in teaching, the anecdotes are illuminating and refreshing. Adopting a realistic approach, this book focuses on how to use #EdTech to meet your needs as a teacher, rather than shoehorn solutions based on what equipment is available. There are plenty of resources, further reading and checklists included, which make this book a good resource for heads of departments and inset providers. It's also recommended for school IT leaders who want to enthuse the staffroom with technology and effect positive change in their school community.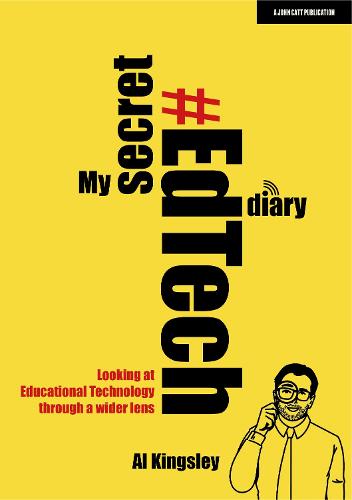 Leadership
Teaching, pedagogy, and research in schools
Ongoing professional development: staff, pupil and parent wellbeing
Ongoing professional development: safeguarding
If you need to update your annual safeguarding and Prevent training – these online options offer certificated and accredited CPD.
Teaching books to read for professional development
Closing the Vocabulary Gap by Alex Quigley
A groundbreaking book that examines how improving vocabulary can improve attainment – and more importantly, strategies for how to achieve that in the classroom and throughout a school. Fascinating reading.

Creating Writers by James Carter
Well-worth reading, this how-to guide for creative writing in KS2 and KS3 may well force teachers to rethink how they approach teaching the composition of writing. Thorough, and fun – this book is a must-have for anyone teaching English to 8-13-year-olds.

Reading Reconsidered: A Practical Guide to Rigorous Literacy Instruction by Doug Lemov
This book examines and challenges perceptions on how we learn to read, how we teach reading, the effect of reading on attainment and how we measure and appreciate that within a school, and life in general. Absorbing and thought-provoking, there should be a copy of this in every primary school and secondary school English department.

Some of the links on this page contain links to products where schoolreadinglist.co.uk may receive a commission if you decide to buy those products. This doesn't affect the purchase price.
If you liked this page, you might also be interested in our page of online courses for pupils, resources and website for home learning, our magazines for children, and our list of writing competitions for primary and secondary-aged pupils.