Books for Year 5. This curated book list contains classics and modern titles suitable for children aged 9-10 in upper KS2 of primary school. Picked by teachers and librarians, there's a variety of fiction and nonfiction books for all abilities, including the more able and those readers who struggle. We've picked books suitable for whole-class reading, home-learning, intervention groups, book clubs, performance, and shared reading. This list of recommendations is edited termly and includes stories by Ravena Guron, S.F Said, Vashti Hardy, Sabine Adeyinka, Polly Ho-Yen, Christopher Lloyd, A.F. Steadman, Cornelia Funke, Maz Evans, Malorie Blackman, Judith Kerr, Eoin Colfer and many more.
As an Amazon Associate schoolreadinglist.co.uk earns from qualifying purchases.
---
Books for Year 5 – our recommendations
---
Click the buttons below to purchase all of the books in this Year 5 book list, as well as class sets of any of these books and many more, from Bookshop.org UK. Or buy the 20 most popular titles from this list from Amazon – ideal for gifts or your classroom library.
Buy from UK.Bookshop.Org Buy from Amazon.co.uk
Disclosure: If you buy books using the buttons above: we may earn a commission from Bookshop.org, whose fees support independent bookshops; as an Amazon Associate schoolreadinglist.co.uk earns from qualifying purchases.
---
Books for year 5 video
Below is a video showcasing all our Year 5 book recommendations in a helpful 5-minute film which can be displayed in schools, projected on classroom display panels, used as a training resource, or shared as a link for remote learning or school internet websites.
How many of our year 5 books have you read?
Here's a free background wallpaper of our recommended year 5 books list to use on your classroom computer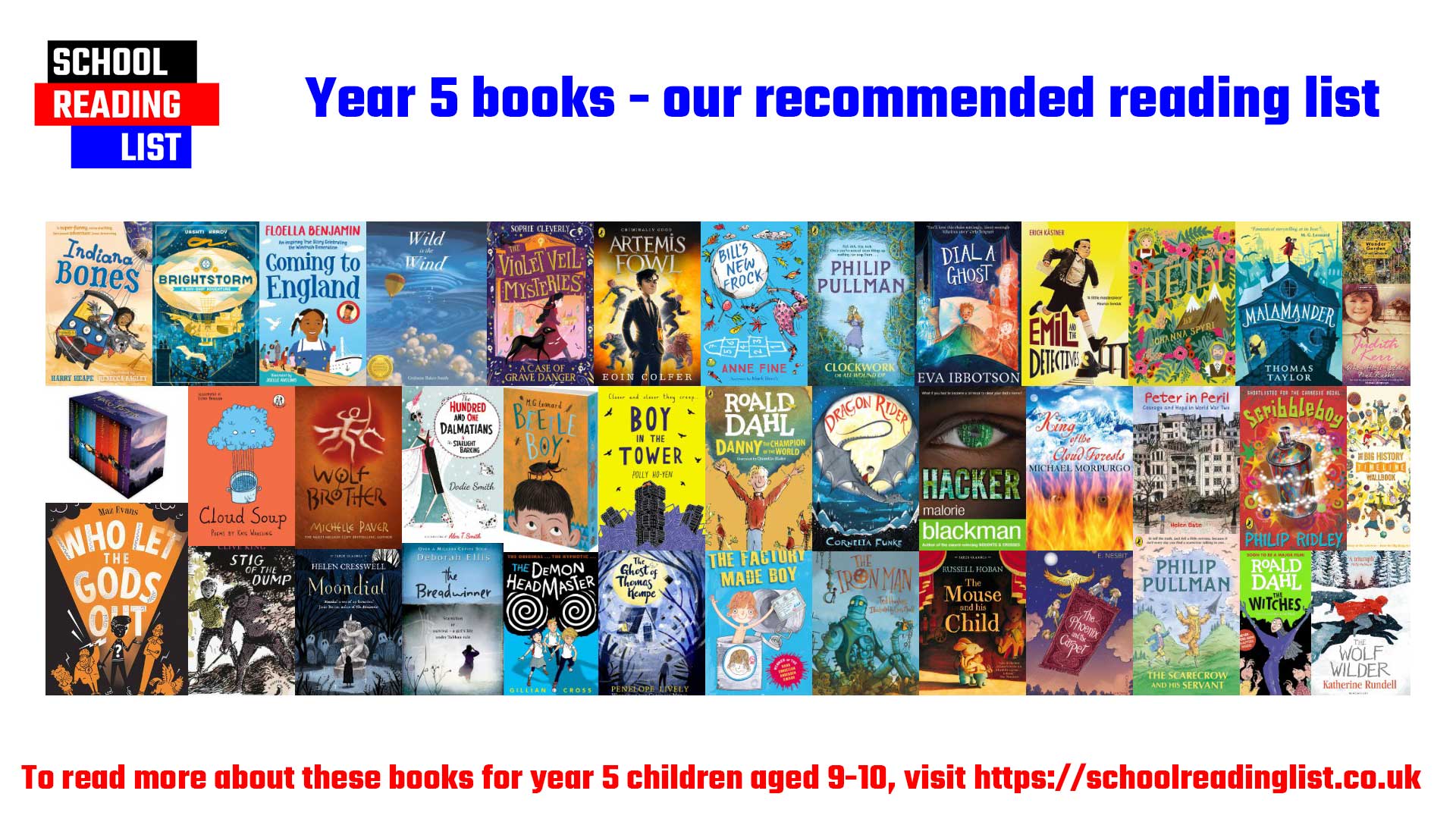 Schools & teachers: please respect copyright and don't copy our Year 5 book list. If you find our book recommendations useful, please consider sharing on social media or linking to this page instead. Thanks.
Books for Year 5 – what titles to recommend to children
Selecting engaging and age-appropriate books for Year 5 children involves considering their evolving interests and reading abilities. Aim for a diverse mix of genres, including adventure, mystery, historical fiction, and fantasy. Look for titles that spark curiosity, provoke critical thinking, and encourage empathy. Series with relatable characters and captivating storylines often capture their interest, fostering a love for reading. It's beneficial to involve children in the selection process, considering their preferences and providing a balance between challenging and comfortable reads. Some timeless classics and contemporary gems can enrich their literary experience, creating a well-rounded reading list that both teachers and parents can confidently recommend. A well-curated Year 5 reading list can really make a big difference.
What reading level should a year 5 be?
In Year 5, children typically achieve a reading age that ranges from 9 to 11 years old. However, it's crucial to recognize that individual development varies, and children may progress at different rates. The focus should be on assessing their comprehension, fluency, and critical thinking skills rather than adhering strictly to a specific reading level. Encouraging a diverse range of reading materials, from challenging novels to informational texts, supports their intellectual growth and expands their vocabulary. Personalised booklists for Year 5 can help to achieve this. Regular assessments and discussions with teachers can provide valuable insights into each child's progress and guide adjustments to their reading journey accordingly.
---
Click for more children's reading book recommendations – Picture books to read before you are 5 years old | Reception books | Year 1 books | Year 2 books | Year 3 books | Year 4 books | Year 5 books (this page) | Year 6 books | Topic books | KS3 books
---
For less able readers, try our Books for Year 4 reading suggestions.
For even more books for 9-10-year-olds, see this list.
For the more able, have a look at our Books for Year 6 reading list.