Books for Year 3 – are you looking for a great book for the classroom, the school library or your child's collection? The following list contains 40 short chapter books, more advanced picture books and rhyming verse to appeal to children aged 7-8 in lower Key Stage 2 of UK primary schools.
There is a range of recommended reads suitable for all ability ranges within this age group, including titles for both reluctant and more independent readers. In all our hand-picked lists, we feature books to appeal to a wide range of interests and situations, including classroom reading corners, school libraries, book clubs, learning at home, reading buddies and first free readers.
This list of Year 3 books and specific reading suggestions for their use with seven-year-olds is curated by our team of teachers and school librarians, is reviewed termly and includes stories by Lara Hawthorne, John Steptoe, Liz Flanagan, Roald Dahl, Zanib Mian, Dick King-Smith, Derek Keilty, Jon Scieszka, Andy Shepherd, Helen Cresswell and many more.
As an Amazon Associate schoolreadinglist.co.uk earns from qualifying purchases.
---
Books for Year 3 – our recommendations
---
Click the buttons below to purchase all of the books in this Year 3 book list, as well as class sets of any of these books and many more, from Bookshop.org UK. Or buy the 20 most popular titles from this list from Amazon – ideal for gifts or your classroom library.
Buy from UK.Bookshop.Org Buy from Amazon.co.uk
Disclosure: If you buy books using the buttons above: we may earn a commission from Bookshop.org, whose fees support independent bookshops; as an Amazon Associate schoolreadinglist.co.uk earns from qualifying purchases.
Books for year 3 video
Below is a video featuring all our Year 3 book choices in a quick-to-view five-minute-long movie which can be used in CPD training, class assemblies, parent/teacher meetings, and shared for online learning or social and professional networks.
How many Year 3 books have you read?
Here's a free background wallpaper of our recommended year 3 books list to use on your classroom computer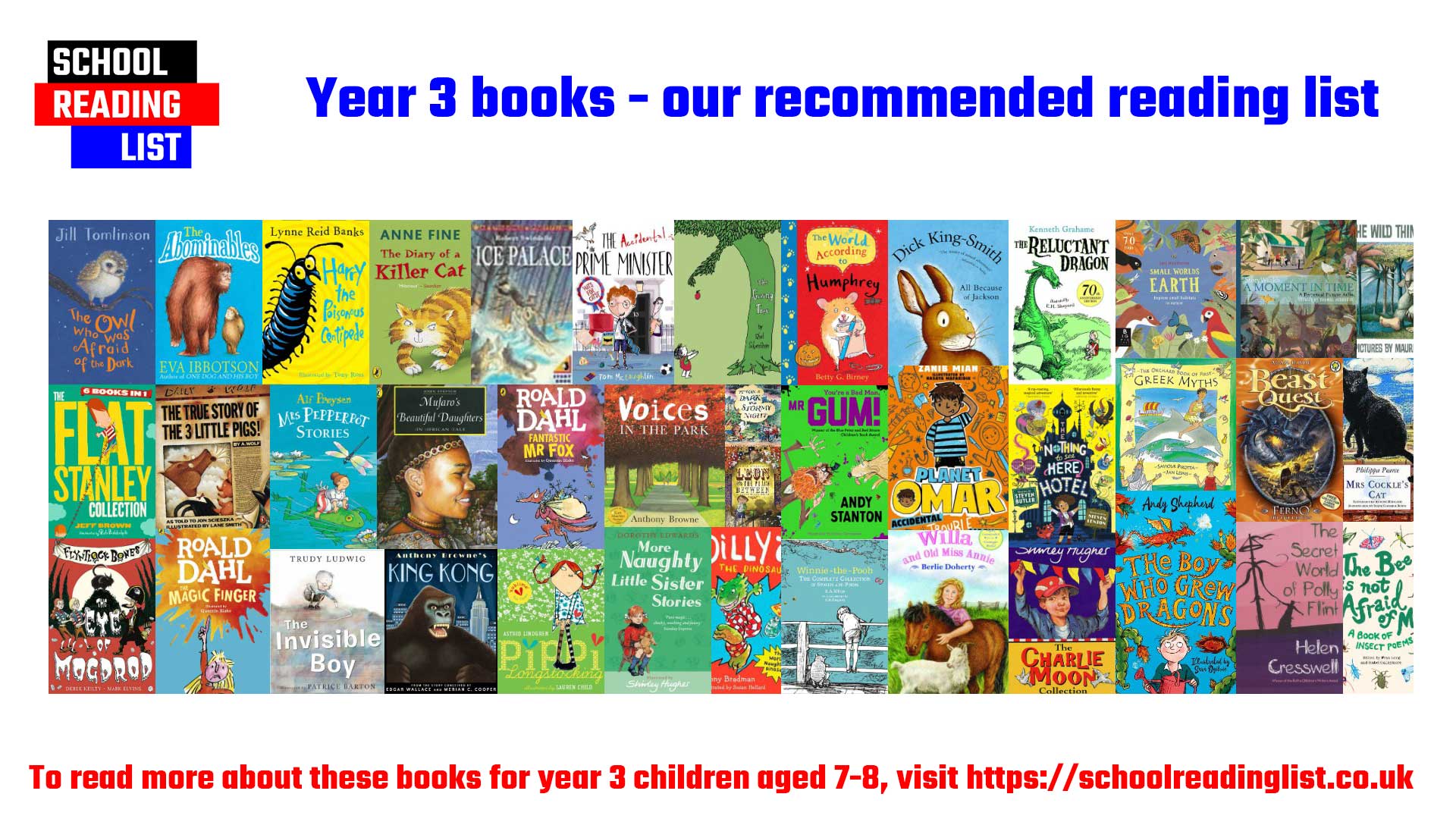 Schools & teachers: please respect copyright and don't copy our Year 3 book list. If you find our book recommendations useful, please consider sharing on social media or linking to this page instead. Thanks.
Books for Year 3 – what titles to recommend to children
In year 3, most children begin the school year aged seven and turn eight before the beginning of the next school year the following September.
Year three is the start of Key Stage 2, which might also be known as juniors in some primary schools, or 'prep' in some independent schools. This is the start of the final four years of primary education. In year 3 pupils will be introduced to more discrete academic subjects which might be taught by subject specialists, for example in music or PE.
What books should children be reading in year 3?
Most children will be reading a mixture of short chapter books, more detailed and thought-provoking picture books, and a range of non-fiction and reference. Teachers will often introduce poetry anthologies and playscripts in year three literacy lessons. By the end of year three, most pupils will have moved away from structured reading schemes, although some will still benefit from the support and repetition these books can provide.
How to pick books for year 3 children
Many children at this age are more likely to read a book if they have chosen it themselves. Exposing children to reading material and encouraging them to explore books is often a good strategy to maintain reading motivation. A well-curated Year 3 reading list will prove beneficial. Libraries, both at school and at home, bookshops, book tokens, children's literature events, book signings, book fairs at school and talking about which books you liked to read as a child are all good places to start.
What level or reading age are children in year 3?
Most children should be looking at books banded by publishers for '7-9-year-olds'. While some children might be able to decode the text in stories written for older children, the subject matter and themes might not be appropriate for empathy or understanding. At the beginning of KS2, children should be exploring which books interest them, by choosing books independently and developing a love of literature. Helpful and encouraging reading suggestions, and exposing children to new material which they can pick from is often more effective than dictating which books must be read.
How can I help my 7-year-old child to improve their reading?
A daily routine of reading at home during term time and the holidays is essential for seven and eight-year-old children. 15-20 minutes spent reading with your child, or to your child, or listening to your child read will pay huge dividends in the long term. Some children respond well to a structure and timetable for reading, but for others, a set block of time might not be productive. Try to take advantage of reading opportunities as they arise. This might be reading a leaflet, letter or children's magazine, it could be reading and explaining a sign or notice or a recipe, or it might be helping read a bedtime story to a younger sibling. When you listen to your child read, ask them questions about what has happened, how they feel about the story and characters, and what they think will happen next.
It's best to encourage your child to read for pleasure and help them find books that interest them. Try to avoid logging the exact time spent reading, or how many pages have been read each day – reading logs and journals can be demoralizing for children, particularly if they find reading a challenge. Instead try to focus on finding new and exciting authors, and texts about subjects they find interesting or which can be explored further by visiting places, researching online, or engaging in hobbies or activities.
What do children learn about in Year 3?
Many pupils will study the Stone Age, the ancient worlds of the Romans, Ancient Greeks and Egyptians; and in science, minibeasts, rocks, earthquakes & volcanoes, light, sound, healthy eating and the human body are often taught as topics in lessons. Children will begin to plan and build projects in design and create artwork using different techniques and media. In maths, they will be introduced to geometry and data, including different shapes, areas and perimeters, collecting data and creating simple graphs and charts. Developing personalised Year 3 booklists that explore these topics can help boost your child's confidence and learning at school.
Can a 7-year-old read Harry Potter?
This is a very popular question! While some seven and eight-year-olds may well be able to read the words aloud, most children in year 3 will find comprehending the characters and storyline too challenging. We think Harry Potter is better suited for children aged 9+.
---
Click for more children's reading book recommendations – Picture books to read before you are 5 years old | Reception books | Year 1 books | Year 2 books | Year 3 books (this page) | Year 4 books | Year 5 books | Year 6 books | Topic books | KS3 books
For less challenging year 3 books, see our books for Year 2 reading list, and for even more books for seven-year-olds see this list.
For more challenging reading material, try our books for Year 4 reading list.