Metropolis – at a glance
The School Reading Lists' five word review: colourful, original, cultural and informative.
Children's book title: Metropolis.
Children's author: Benoit Tardif.
Genre: Children's nonfiction.
Illustrated by: Benoit Tardif.
Published by: Big Picture Press
ISBN: 9781787418547
Recommended for children aged: 5-11.
First published: Hardback July 2020.
This children's book is ideal for: children who love to absorb information about places.
---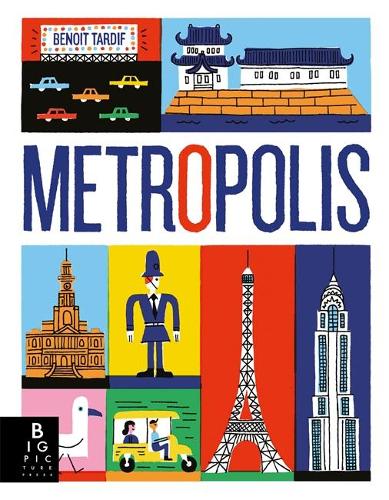 To see the latest price or order, click on the book cover image.
---
Our review:
Metropolis is a visually compelling picture book that transports the reader to 32 exciting and diverse cities around the world. The vibrant screen print style of illustration is eyecatching and absorbing and will grab the attention of younger readers.
The original artwork is colourful, bright, and uses high contrast panels to create a wow factor. Multiple perspectives draw the eye and help engage. There's nothing repetitive about this book, and every page features something new and interesting. Each page is a flash of colour and cultural inspiration.
This not quite wordless picture book features a clever and consistent design. Each city is depicted through stylised and labelled pictures of the places, activities, traditions, tourist highlights, local delicacies, natural landmarks, and historic architecture and monuments. There's a surprising amount of geographical information conveyed using this accessible and easy on the eye approach.
I particularly enjoyed the spread on Krakow in Poland. I was delighted to see that I'd shopped at the Cloth Hall, photographed St Florian's Gate, done the sightseeing tour, heard the street jazz players, marvelled at St Mary's Basilica and the Wawel Castle, read (and retold) the legend of the Wawel Dragon, walked across the Vistula, eaten obwarzanek and pierogis (not at the same time), and tasted salt in the air. It was a good trip in 1994!
Metropolis also includes some quirky observations that sharp-eyed children will spot and enjoy. Highlights include the grinning Johannesburg rhino, the alarming rollercoaster in Jakarta, fried beetles in Bangkok, the mouth of truth in Rome, and the statue of Bruce Lee in Hong Kong.
Using Metropolis in the classroom
There are lots of display ideas here for art teachers.
The illustrations could be a great template for SpLD children to use to demonstrate graphically what they have understood about a topic or story.
It's perfect for geography topics, places topics, or topics involving people and different cultures.
The 'superpowers', 'fast facts', and speech bubbles from divers make the text accessible and appealing. The consistent layout is one that KS2 pupils will be able to use as a writing frame to help scaffold their non-fiction literacy work.
For literacy lessons – The addition of an introduction, index, author biographies, and consistent layout make this an ideal resource for KS2 pupils looking at the features of non-fiction texts.
For topic work – the blend of maths facts and figures, (there's plenty enough for handling data tasks, tables, charts or, even or top trumps style presentations) science detail – including teeth, food chain information – geographical habitat information, and classroom display and art lesson friendly cartoon illustrations make this a good choice for cross-curricular teaching.
Our verdict
Metropolis is suitable for a wide age range. It would be ideal for reading to 4-5-year-olds, independent readers aged 5 upwards, and a useful resource for reluctant readers in KS2. The book doesn't have to be read in page order, which makes it particularly useful for struggling readers, who will be surprised how much detail they will be able to absorb, retain, and describe. It's a potential confidence booster for weaker readers who enjoy facts and information.
For home learning, let your child build a bucket list of dream destinations to visit during their lifetime!
Many thanks to Big Picture Press for the review copy.
If you like this book you might also like Sport-O-Rama by Benoit Tardif, Maps by Aleksandra and Daniel Mizielinski, City Atlas by Martin Haake, and Atlas of Adventures by Lucy Letherland.
---
Why not have a look at our list of kid's magazine subscriptions or our collection of topic books for KS1 and KS2?
Please respect copyright and don't copy or reproduce our content. Sharing on social media or linking to our site's pages is fine. Thanks.