Son of the Sea by Richard Pickard – at a glance
The School Reading Lists' five word review: Family, Funny, Acceptance, Goals, Determination.
Children's book title: Son of the Sea.
Children's author: Richard Pickard.
Genre: Fiction, swimming, mystery.
Published by: Chicken House.
ISBN: 9781913696726.
Recommended for children aged: 9+ year olds.
First published: Paperback May 2023.
This children's book is ideal for: Those that prefer a gentler type of story about the differences and similarities between us while understanding how they make us unique as well as more alike than we might have thought.
---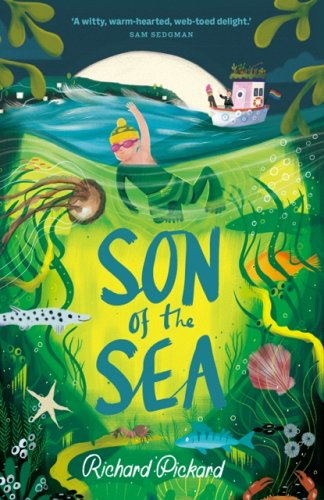 To see the latest price or order, click on the book cover image.
---
Our review:
Casper Delmare's goal in life is to be the youngest person to swim the English Channel, which is a problem as anything involving water has been banned by his mum and dad! He's only allowed to wash when it rains and drinks either fruit or vegetable juice as everything else is strictly forbidden, apparently for his own good!
As the summer holidays begin, and while he's taking a crafty dip in a local ornamental water fountain, his parents are involved in an unfortunate incident, resulting in a stay in the hospital. Before he realises what's happening, Casper finds himself staying with a grandmother he didn't know existed but who, amazingly, lives by the sea!
So begins the most unexpectedly surprising time of Casper's life as he makes new friends and tries to find out why his family are keeping secrets from him. At the same time, it looks like his greatest wish might be within his grasp until his parents' fears look like they might stop everything in its tracks.
Our verdict:
This is a gentle look at the things which make us unique but not always in a way we're happy about. Casper is a frustrated eleven-year-old who is drawn to water in a way he can't explain which fills his parents with dismay because of his wide, webbed feet!
There are no bad guys in this story, instead misguided attempts to protect instead of encouraging and explaining mean Casper takes matters into his own hands, or feet, at his earliest opportunity. Simultaneously, jealousy and the need to accept the passage of time are woven into this multi-layered storyline showing how everything we do has consequences.
Suitable for Year 4 and above, Son of the Sea will spark class discussions on friendship, family, feeling different, and having something to aim for.
Many thanks to Chicken House for the review copy.
---
If you like Son of the Sea by Richard Pickard you might also like: our reviews of Antigua de Fortune of the High Seas by Anna Rainbow and Oli Hyatt, Picklewitch & Jack and the Sea Wizard's Secret by Claire Barker, Thunderbolt by Wilbur Smith with Chris Wakling, Shark Super Powers by Jillian Morris & Duncan Brake, Emily Windsnap and the Pirate Prince by Liz Kessler and Voyage of the Sparrowhawk by Natasha Farrant.
---
Browse our list of books for KS2