Growing Up Powerful Journal by Nona Willis Aronowitz – at a glance
The School Reading Lists' five word review: Romance, destiny, soul mates, music.
Children's book title: Growing Up Powerful Journal.
Children's author: Nona Willis Aronowitz.
Children's author: Caribay Marquina.
Genre: Self-help.
Published by: Rebel Girls
ISBN: 9781953424716.
Recommended for children aged: 8+.
First published: Paperback October 2023.
This YA book is ideal for: Girls aged 8-13.
---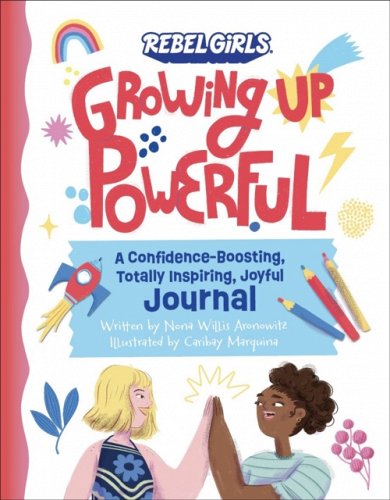 To see the latest price or order, click on the book cover image.
---
Our review:
Described as a 'Confidence-Boosting, Totally Inspiring, Joyful Journal' this follow-up to the Growing Up Powerful guide is written by the team behind the bestselling Good Night Stories for Rebel Girls. Aimed firmly at girls aged between 8-13, the journal is designed to encourage creativity and boost self-esteem in the pre-teen and early teen years.
Make this journal part of your everyday routine and feel your confidence soar!
Growing Up Powerful Journal is divided into five general themes:
What is confidence? – challenge yourself, positive reinforcement, inspiring role models
Take action – be adventurous, monitor your feelings, future inspirations
Train your brain – positivity, dealing with anxiety, mindfulness techniques
Build your team – building and maintaining friendships, peer support, helping others
Change the world – community involvement, activism, career goals
The Journal is full of writing and drawing prompts, from identifying the traits you most admire in your heroes to colouring in confidence-boosting mantras. The journal format makes it ideal to dip in and out of and the personalisation aspects are designed to be returned to when you need a confidence boost or some extra self-empowerment.
This journal was created to give girls a safe and encouraging place to explore their personality, their thoughts, goals and dreams.
Each page has at least one full-colour illustration, making the book visually appealing and accessible to both confident and reluctant readers and writers. The illustrations are noticeably inclusive, portraying girls of different ethnic backgrounds, body shapes and visible physical abilities.
Each section has a multi-choice personality-style quiz and real-life stories of inspiring girls and young women. QR codes throughout the book link to additional content and the book also ties in with the child-friendly Rebel Girls app.
Like the original Growing Up Powerful book, the Journal is noticeably written for an American readership and some of the terminology and concepts may jar a little with British readers (grade school, swim meets etc). The journaling format would make it more suitable for individual rather than library usage, although many of the activities and prompts could be adapted for classroom or group work.
Growing Up Powerful Journal is a positive, interactive resource for the early teenage years that will appeal to fans of Judy Blume and the Rebel Girls books.
Many thanks to Rebel Girls for the review copy.
---
To order a class set of this book, please click below to order via uk.bookshop.org, an organisation that supports local bookshops, or Amazon.co.uk.
Buy from UK.Bookshop.Org Buy from Amazon.co.uk
Disclosure: If you buy books using the buttons above: we may earn a commission from Bookshop.org, whose fees support independent bookshops; as an Amazon Associate schoolreadinglist.co.uk earns from qualifying purchases.
---
If you like Growing Up Powerful Journal by Nona Willis Aronowitz you might also like: our reviews of Growing Up Powerful by Nona Willis Aronowitz, Fighting in a World on Fire by Andreas Malm, Happy Healthy Minds by The School of Life, The Awesome Power of Sleep by Nicola Morgan and The Big Green Activity Book by Damara Strong.
---
Browse our list of resilience topic books