The Big Green Activity Book – at a glance
The School Reading Lists' five word review: Thorough and bursting with questions.
Children's book title: The Big Green Activity Book
Children's author: Damara Strong.
Genre: Children's nonfiction.
Illustrated by: John Bigwood, Georgie Fearns, Ed Myer and Charlotte Petter.
Published by: Buster Books.
ISBN: 9781780556093
Recommended for children aged: 7-11.
First published: Paperback February 2020.
This children's book is ideal for: Wet play activities, extension work for topics or quick quizzes.
---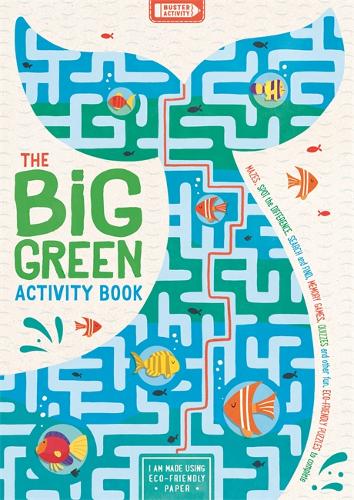 To see the latest price or order, click on the book cover image.
---
Our review:
Bright graphics and an abundance of visual curiosities leap from this thick A4 paperback from Buster Books. The label "activity book" doesn't do it justice, conjuring suspicions of generic word searches and colouring in. The Big Green Activity Book isn't like that at all. It's bursting with so many interesting details, thought-provoking questions, and puzzles, that the spine may well need duct tape once your children have finished with it.
Crucially, nothing is dumbed down. It's perfectly pitched for conscientious children in key stage 2 who want to learn more about protecting the planet. Everything is geared toward promoting green knowledge – climate change, renewable energy, recycling, and activism. The book is even printed on eco-friendly paper with a satisfyingly earthy smell.
This book is thorough. It covers every aspect of eco learning a 7-11-year-old could ever need. Questions are posed to prompt further research for enquiring minds. Recycling, pollination, pollination, habitats, green classrooms, rainforests, minibeasts, healthy eating, greenhouse gasses, food chains, electric vehicles, astronomy and clear skies, endangered species, refuse and landfills, food and farming, polar warming, plastic pollution, renewable energy, and car sharing are all covered.
There's more than enough to keep one child engaged for weeks. So much so that we're convinced it would keep 3-4 children busy, making this an excellent resource for wet playtimes, lunchtime clubs, school and classroom libraries, or as an extension activity in an environment topic.
Using The Big Green Activity Book in the classroom
A significant strength of this book is that is doesn't look like a textbook, a classroom resource or homework. It looks like fun – and this will appeal to a learning averse 7-11-year-old. No two pages are the same – the quizzes and activities are many and varied in form and style to keep children engaged.
Each spread features useful information bubbles that clearly explain the task and provide the information required with age-appropriate text. Flicking through the double-page spreads, the eco-activities cover an incredible breadth of curriculum areas and learning techniques, including cloze procedure, matching activities, mirroring and reflection, addition, spatial awareness, logical reasoning, coordinates, symmetry, money problems, maps, instructions, short term memory exercises, sudoku, percentages, times tables, maths word problems, classification, flow diagrams, time problems, and keys. This makes The Big Green Activity Book ideal as an extension activity for topic work.
The illustrations are bright and vibrant – there's plenty of scope to find inspiration for topic-based wall displays and classroom art by flicking through this book.
Our verdict
The Big Green Activity book is bursting with ideas. It's an ideal resource for wet playtimes, or extension classwork or homework; and it offers teachers ideas for short, fun informal AFL style tests on green and eco-related cross-curricular topics. It's perfect for classrooms and school libraries.
If you like this book you might also like The Big Human Body Activity Book by Ben Elcomb, Greta and the Giants by Zoë Tucker, What A Waste: Rubbish, Recycling, and Protecting our Planet by Jess French, Guardians of the Planet: How to be an Eco-Hero by Clive Gifford and The Stick Book: Loads of things you can make or do with a stick by Fiona Danks.
---
Why not have a look at our books for KS1 or books for KS2
Please respect copyright and don't copy or reproduce our content. Sharing on social media or linking to our site's pages is fine. Thanks.