Ancient Love Stories by Emily Hauser – at a glance
The School Reading Lists' five word review: Romance, history, war, devotion, love.
YA book title: Ancient Love Stories.
YA author: Emily Hauser.
YA illustrator: Sander Berg.
Genre: Historical romance.
Published by: Big Picture Press
ISBN: 9781800783225.
Recommended for children aged: 14+.
First published: Hardback September 2023.
This YA book is ideal for: Mature readers.
---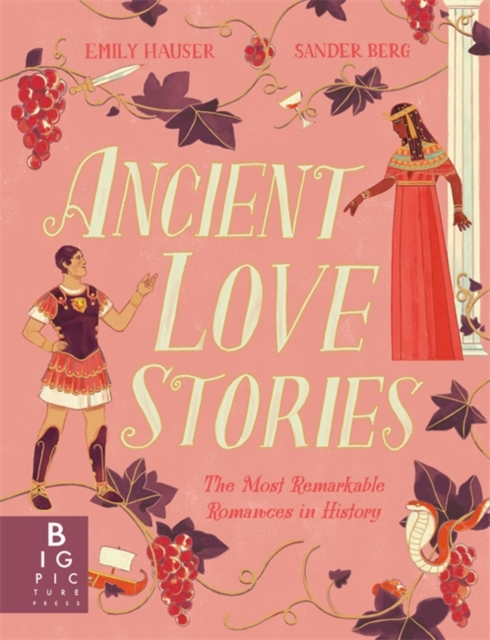 To see the latest price or order, click on the book cover image.
---

Our review:
This is not just a story of love that happens to be true.
This a story of true love.
Ancient Love Stories revels in the premise that the greatest of true loves are those that are indeed true.
Eleven real-life love stories are re-told in rich detail, from Han China to Jacobean England. Some like Mark Anthony and Cleopatra have become well-known legends. Others like Sappho have been misremembered and are deservedly and sensitively retold.
Written by acclaimed classical scholar Emily Hauser and beautifully illustrated by Swedish designer Sander Berg, this is a highly visually appealing book that gives a fascinating insight into the lives and loves of some of history's greater partnerships.
The survival of these extraordinary tales goes to show that love really does stand the test of time.
Highlights include:
Sappho from Ancient Greece who 'loved women, passionately, openly'. Her poetry has inspired writers for over 2,500 years even though only fragments of her prolific work now remain.
King Nebuchadnezzar, who built the famed Hanging Gardens of Babylon for his beloved wife Amytis, as she missed the greenery of her mountain homeland.
The men in the Greek army of Thebes, who went to battle alongside their lovers and were buried holding hands.
Ancient Love Stories combines fiction with social commentary, placing each tale in its cultural context. The book reminds us that true love is brave – as it often has to be in order to both survive and be a true reflection of who we are. There is a common theme that love is revealed by actions not words – from creating legendary gardens to sacrificing one's life to save their beloved.
The diversity of the romances gives a welcome inclusivity to the straight partnerships that tend to dominate the history books. They also confirm that ancient cultures were often far more tolerant of diverse relationships than modern society.
Love is a touchstone that we can always come back to in order to understand what it means to be human.
In a cynical modern world where celebrity 'true loves' all too often end in bitter break-ups, Ancient Love Stories shows that love is truly a force to be reckoned with. The details of both the romances and the often-troubled times they occurred in, make the book more suited to an older readership.
Ancient Love Stories will appeal to both history and romance fans and to all readers longing for their own epic love story.
Many thanks to Big Picture Press for the review copy.
---
To order a class set of this book, please click below to order via uk.bookshop.org, an organisation that supports local bookshops, or Amazon.co.uk.
Buy from UK.Bookshop.Org Buy from Amazon.co.uk
Disclosure: If you buy books using the buttons above: we may earn a commission from Bookshop.org, whose fees support independent bookshops; as an Amazon Associate schoolreadinglist.co.uk earns from qualifying purchases.
---
If you like Ancient Love Stories by Emily Hauser you might also like: our reviews of I Loved You In Another Life by David Arnold, The Girl Who Grew Wings by Anna Waterworth, Overemotional by David Fenne, The Isles of the Gods by Amie Kaufman and Gwen and Art Are Not in Love by Lex Croucher.
---
Browse our list of books for 14 year olds