101 Awesome Women Who Transformed Science – at a glance
The School Reading Lists' five word review:  transformative, interesting, significant and inspirational .
Children's book titles: 101 Awesome Women Who Transformed Science.
Children's author: by Claire Philip.
Children's illustrator: by Isabel Muñoz.
Published by: Arcturus Publishing.
ISBN: 9781788883764
Recommended for children aged: 7-12.
First published: Paperback February 2020.
This children's book is ideal for: the KS2 school library.
---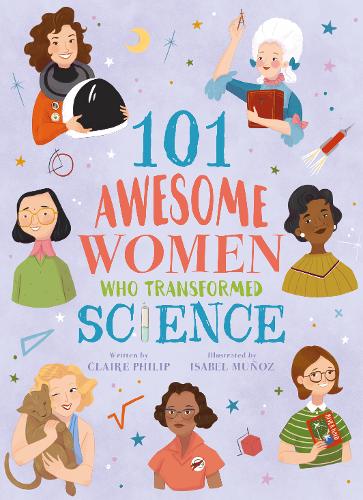 To see the latest price or order, click on the book cover image.
---

Our review:
When I was growing up I had a lot of uncles. They all liked me and took an interest in my broader education. They were also, to a man, quite eccentric. In some cases their eccentricity and independence of mind bordered on criminality. One would always greet me by saying, 'How are you doing? What do you know? What are you doing? And how do you know ?' I think my interest in Philosophy began then.
Another would ask me, 'Who wrote Paradise Lost ?' (Or The Canterbury Tales, or David Copperfield, or Pride and Prejudice.) I didn't know, so he told me. And even though we never read or discussed them, I knew they existed and that Milton, Chaucer, Dickens and Jane Austen must be significant figures, otherwise why would my uncle know about them ages after they had lived?
Later, my mother bought me a weekly magazine called Knowledge, which contained short articles on a huge range of subjects. So by the age of twelve, hundreds of doors had been shown to me, leading to some life-long interests. None of them, though, were scientific. That's my excuse for not knowing about most of the women in this fascinating series of brief introductions. Oh, and the fact that I have probably acquiesced in a version of the world which accepts as normal the old, white, male ascendancy.
Reading this book has altered my angle of vision. If it had been available to me when I was twelve it would have transformed it entirely.
Using 101 Awesome Women Who Transformed Science in the classroom
The detailed biographies are ideal for using as source material, comprehension activities, and writing starting points in upper KS2.
The format and accessible accounts of each scientist provide a good platform for further research and homework / home-learning projects.
A vast array of scientific fields are covered – not just physics, chemistry, and biology. There's plenty to interest all junior-aged children – making this book ideal for KS2 libraries.
Many of the women featured were pioneers in their field or overcame significant obstacles on the path to success, making this a great text to discuss in Year 5&6 PSHE, and a useful discussion starter for circle time.
Many thanks to Arcturus Publishing for the review copies.
If you like these books you might also like 101 Awesome Women Who Changed Our World by Louise Wright, The Sea Book by Charlotte Milner, Forgotten Beasts by Matt Sewell, and Where We Once Stood by Christopher Riley and Martin Impey.
---
Why not have a look at our children's magazine subscriptions and our Year 2 reading list pages?
Please respect copyright and don't copy or reproduce our content. Sharing on social media or linking to our site's pages is fine. Thanks.