Santa's New Reindeer by Caroline Crowe and Jess Pauwels – at a glance
The School Reading Lists' five word review: Christmas, reindeer, catastrophe, invention, solution.
Children's book title: Santa's New Reindeer.
Children's author: Caroline Crowe.
Children's illustrator: Jess Pauwels.
Genre: Children's fiction, picture book.
Published by: Faber Children's .
ISBN: 9780571375141.
Recommended for children aged: Baby to 6.
First published: Paperback October 2023.
This children's book is ideal for: Discussing what happens when things go wrong; thinking about who we can get to help us and how grown-ups sometimes need help too.
---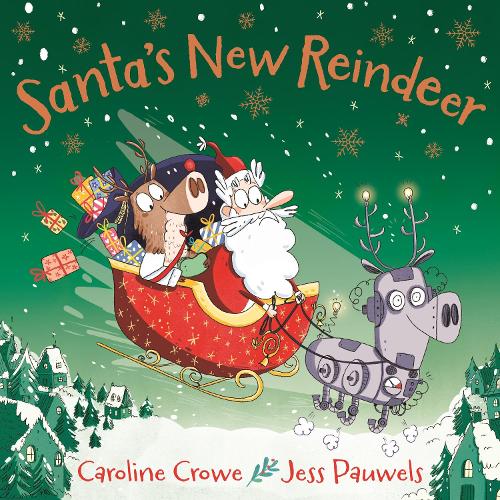 To see the latest price or order, click on the book cover image.
---

Our review:
There is a week to go before Christmas and Santa is feeling confident. After all, what could possibly go wrong? Santa soon finds out that when disaster strikes, Rudolph can't pull the sleigh, and panic ensues! Whatever will they do?
After contacting everyone they know and considering every animal they can think of they are stuck! Christmas is ruined! Then, finally, the inventor elf shows them her idea – a mechanical, remote-controlled reindeer! Christmas is saved!
Our verdict:
This is written in rhyme which means I think up to 8-9 year olds will also enjoy this while it could easily be read over and over for younger children. As an adult my only criticism was that the actual Christmas Eve journey wasn't mentioned but the children I shared it with didn't mention that at all!
The third in a series of books about Santa's troubles in the lead-up to the big day this has an endearing familiarity to it which all children will enjoy and I think will result in it becoming a favourite Christmas read. It is a pleasure to read aloud to a young audience who I have no doubt will enjoy it enormously, especially as the reader has to say 'poop'!
Many thanks to Faber Children's for the review copy.
---
To order a class set of this book, please click below to order via uk.bookshop.org, an organisation that supports local bookshops, or Amazon.co.uk.
Buy from UK.Bookshop.Org Buy from Amazon.co.uk
Disclosure: If you buy books using the buttons above: we may earn a commission from Bookshop.org, whose fees support independent bookshops; as an Amazon Associate schoolreadinglist.co.uk earns from qualifying purchases.
---
If you like Santa's New Reindeer by Caroline Crowe and Jess Pauwels you might also like our Christmas story books Advent calendar, our list of great books for Christmas presents, and our Christmas topic books list.
---
Browse our lists of books for EYFS