The Girl Who Learned All the Languages of the World – at a glance
School reading lists's five word review: Inspire a love of language!
Children's book title: The Girl Who Learned All the Languages of the World.
Children's author: Ieva Flamingo.
Genre: Children's fiction.
Illustrated by: Chein Shyan Lee.
Published by: The Emma Press.
ISBN: 9781912915095
Recommended for children aged: 8+.
First published: Paperback January 2019.
This children's book is ideal for: reading with your child, encouraging a love of language and etymology, inspiring children to learn new words and learn a new language.
---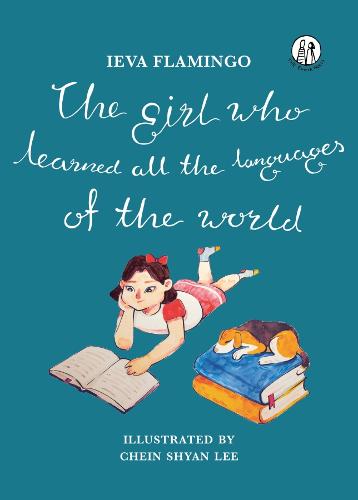 To see the latest price or order, click on the book cover image.
---
When Lela feels left out and anonymous at her diplomat father's highfalutin multilingual party, she desperately wants to know what all the guests are saying. Upset that she mistakes the words 'elevator' for 'waiter' and 'papa' for 'Pope', she resolves to learn not just one language, but every language in the world.
What follows, in this new story by prolific Latvian children's author Ieva Flamingo, is a light-hearted quest story into which the interesting words Lela encounters along the way are interspersed. As she tries to decipher a mysterious plea for help, the reader can try and work out Lela's comical mistranslations before the unexpected truth is revealed at the end.
Each new word Lela stumbles upon is translated into Latvian, French, Finnish, German, Spanish, Italian, Estonian, Swedish, Slovenian, Dutch, Maltese and Russian.
A wide range of interesting words is chosen for each 12-language reinterpretation. Common words such as 'hello', 'Dad', 'money' and 'water' will encourage basic communication, and more exciting vocabulary such as 'bubble', 'strawberry', 'help', 'fart' and 'poo' may well be irresistible for the reader to blurt out in conversation. I suspect each word has been chosen for its interesting sounding foreign counterparts, many of which lend themselves to phonetic reading:
She thought for a while and then taught herself the word BUBBLE.
IN Latvian, it was BURBULIS.
In French, it was BULLE.
In Finnish, is was KULPA.
In German, it was BLASE
In Spanish, it was BURBUJA.
In Italian, it was BOLLA.
In Estonian, it was MULL.
In Swedish, it was BUBBLA.
In Slovenian, it was MEHÚRČEK.
In Dutch, it was BUBBEL.
In Maltese, it was BUŻŻIEQA.
IN Russian, it was ПУЗЫРЬ.
This format is great to read with your child – as a call and respond – and it is bound to interest children in thinking about etymology and the connections and similarities between words in different languages. Bright children will begin to appreciate the common roots. The words are also just fun to try and read out. With the internet only a hand-held device away, this book could spark lots of research and online searching for pronunciations.
This book will appeal to confident readers in primary school years 4-6, aged 8-11 – particularly those who love discovering new words. In literacy lessons, this book would be a great left-field choice for a class reader or book club text. It is well-suited for reading aloud and will be a hit with children who like the sounds of new and unusual words.
For creative writing, using the idea of a story built around sets of 12 researched word translations could provide an interesting starting point for modelled writing or free writing tasks in Years 5 or 6, or as an extension activity for the more able pupil. There's also a useful 'Write Your Own Story' section at the end of the book.
Our verdict
Highly recommended for children interested in languages and discovering new words. Many thanks to The Emma Press for a review copy.
If you like this book you might also like The Book of Languages: Talk your way around the world by Mick Webb, Speaking in Tongues: Curious Expressions from Around the World by Ella Frances Sanders, Hello World : A Celebration of Languages and Curiosities by Harry Styles and Ultimate Alphabet by Mike Wilks.
---
Why not have a look at our suggested reading lists for children aged 3-16?
Books for EYFS & ReceptionBooks for Year 1Books for Year 2Books for Year 3Books for Year 4Books for Year 5Books for Year 6Books for Year 7Books for Year 8Books for Year 9Books for Year 10Books for Year 11
Please respect copyright and don't copy or reproduce our content. Sharing on social media or linking to our site's pages is fine. Thanks. This page was first published on Feb 21, 2019 and last updated on Feb 22, 2019 @ 10:59 am.