Earth Shattering Events – at a glance
The School Reading Lists' five word review: Experience awe and Earth's power.
Children's book title: Earth Shattering Events!: The Science Behind Natural Disasters.
Children's author: by Robin Jacobs and Sophie Williams.
Genre: Children's nonfiction.
Illustrated by: Sophie Williams.
Published by: Cicada Books.
ISBN: 9781908714701
Recommended for children aged: 7-12.
First published: Hardback October 2019.
This children's book is ideal for: extended home learning projects and wider reading for children aged 7-12.
---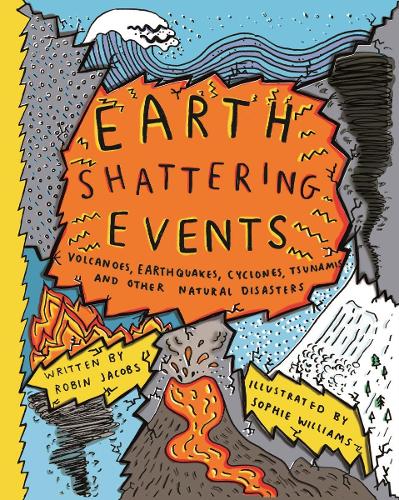 To see the latest price or order, click on the book cover image.
---
Our review:
Earth Shattering Events is an eye-catching and brightly illustrated hardback nonfiction book for children aged 7-12.
Earthquakes are explained as a process, with examples of extreme events, details of measuring devices, the retelling of related myths from around the world and a map of the world's tectonic plates.
Tsunamis are brought to life through their effects on sea life, their typical locations, and a useful quick-guide on what to do if you get caught in one.  Volcanoes are described by type, where and why they occur, what happens during an eruption and a cartoon self-help evacuation guide.
Avalanches are dissected and explained through physics, physical geography and meteorology. Children will know what to look out for if they find themselves on a mountain or a ski slope. And there's more – meteorological disasters – cyclones, tornadoes, blizzards and hailstorms, wildfires and the impact of climate change.
I particularly liked how the book relates the extreme events to situations children will be able to envisage in real life and to relate to. The what to do if you are caught in an avalanche page, how to survive a blizzard and how to spot an impending tsunami will all draw in the young reader.
Using Earth Shattering Events in the classroom
The format and approach of this book are ideally suited to KS2 topic work. Each section covers the science principles – ie the physics and chemistry behind extreme events; the cultural aspects, for example, myths, stories, and ancient beliefs; and for all topics – fun and powerful examples of the 'biggest and worst'.
The clear and concise explanations are suitable for upper KS2 independent reading, and group reading in years 3-6.  This is solid reference and research material for extreme natural events – ideal for home learning, extended projects, and independent study.
The consistent format and style throughout the book will give pupils and teachers ideas on how to present their work. The grid backgrounds on many of the explanation pages are a neat way to not only display the information in clear blocks but also to show pupils how to design their posts and double-page spreads in exercise books.
Our verdict
The text is clear and precise and the illustrations are perfect to engage upper junior aged pupils. We'd recommend this for school and classroom libraries in primary schools.
Earth Shattering Events could well spark interest in geography, the science behind natural disasters and the effects of climate change. It's equally at home in the school library or as a resource for home learning, this hardback is a good starting point to provoke further reading and research.
Many thanks to Cicada Books for a review copy.
If you like this book you might also like Natural Disasters through Infographics (Super Science Infographics) by Rebecca Rowell, Natural Disasters: Investigate Earth's Most Destructive Forces with 25 Projects (Build It Yourself) by Kathleen M Reilly and Tom Casteel, The Great Fire of London: Anniversary Edition of the Great Fire of 1666 by Emma Adams and James Weston Lewis, Alastair Humphreys' Great Adventurers by Alastair Humphreys and Kevin Ward Incredible Journeys: Discovery, Adventure, Danger, Endurance by Levison Wood and Sam Brewster.
---
Why not have a look at our magazines for children and teenagers and our STEM games and resources page.
Please respect copyright and don't copy or reproduce our content. Sharing on social media or linking to our site's pages is fine. Thanks.