Daydreams and Jellybeans – at a glance
The School Reading Lists' five word review: funny, imaginative, read, aloud, surprise.
Children's book title: Daydreams and Jellybeans.
Children's poet: Alex Wharton.
Children's illustrator: Katy Riddell.
Genre: Middle grade poetry.
Published by: Firefly Press.
ISBN: 9781913102432
Recommended for children aged: 7-12.
First published: Paperback January 2021.
This children's book is ideal for: reading aloud and helping to develop children's performance poetry in KS2.
---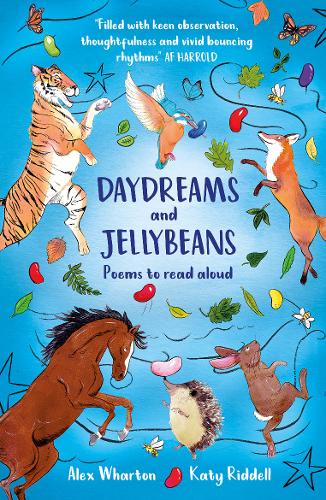 To see the latest price or order, click on the book cover image.
---
Our review:
If I were given the job of writing a job-description for poets (and especially poets whose work is aimed at younger readers) it would have to include many mentions of the word SURPRISE.
Poets should use words in ways that surprise, even if it means being 'incorrect.'
Verbs used as nouns, adjectives dropped in any old how, adverbs floating around willy-nilly; all are welcome.
Then there is the surprise when we are given permission to shift our angle-of-vision, even just slightly. 'I saw it like that, but now I realise that it can be seen like this!'
But the biggest surprise of all: the world itself, the universe, the mere fact of existence!
In this collection of thirty-five poems we find that hedgehogs are not always cute and kind; they pee in the pond and poop in the bird food. They write EJOGS RULE! on the garden wall.
The lines in the road are put there in the middle of the night by a giant man who 'keeps swimming pools of paint, gleaming white!'
And the weeping willow:

I almost thought you
were sad,
until I saw you
as a slow
waterfall
of leaves
This book is to be read aloud to children aged seven to eleven, but I tried a quick flick-through with my grandson, who's two-and-a-half. He was especially entranced by the idea of a tiger playing with a jelly-bean, and a hedgehog having one stuck on the end of his nose!
The illustrations by Katy Riddell are funny, dramatic and all add something to the words and give the reader's imagination somewhere further to go.
For teachers, there are lots of opportunities to develop performance poetry and model ideas for writing here. Alex Wharton's website features details of workshops and also a page with a video and writing prompt ideas.
Many thanks to Firefly Press for the review copy.
If you like Daydreams and Jellybeans you might also like: Poems the Wind Blew in by Karmelo C. Iribarren, Welcome to My Crazy Life by Joshua Seigal, Chocolate Cake by Michael Rosen, Poems Aloud by Joseph Coelho and The Girl Who Learned All the Languages of the World by Ieva Flamingo.
---
Browse more books for KS2 or books for KS3?