Minecraft Official Workbooks – English & Maths – at a glance
The School Reading Lists' five word review: engaging, high-interest, addictive & well-pitched.
Children's book titles: Minecraft Official Workbooks – English & Maths.
Children's author: Collins.
Genre: KS1 and KS2 workbooks.
Published by: Collins
ISBNs: English: 9780008462802, 9780008462819, 9780008462826, 9780008462833, 9780008462840, 9780008462857; Maths: 9780008462741, 9780008462758, 9780008462765, 9780008462772, 9780008462789, 9780008462796.
Recommended for children aged: 5-11.
First published: Paperback November 2021.
These children's books are ideal for: children who require a high interest, incentivised, or themed approach to overcome reluctance with English or Maths.
---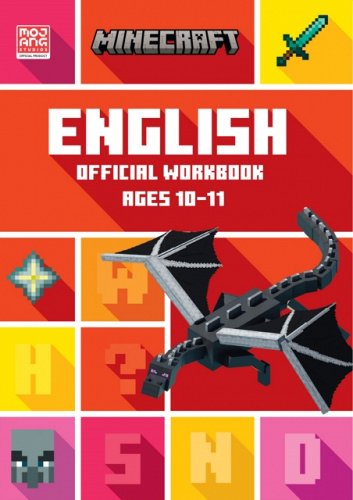 Our review:
The new collections of 12 workbooks – six for English and six for Maths, covering years 1-6 in KS1 and KS2, cleverly build learning and revision units around Minecraft themed scenarios and storylines. With illustrated characters and settings that children will relate to and be excited by, potentially dry areas of the curriculum such as grammar, SPAG and proofreading in English and algebra and data handling in Year 6 will be made just that bit more stimulating for pupils in these useful new texts from Collins.
We tried these workbooks out on pupils in KS1 and KS2 and were pleasantly surprised by just how much of a motivational lift they provided – particularly when it came to using them for revision, or homework. At home, they may well be the perfect injection of oomph some pupils will benefit from before practice SATs, school entrance exams or for catch-up work in the school holidays. At school, teachers will find this scheme useful for reluctant learners or those who find particular aspects of Maths or English monotonous.
---
To see the latest price or order, click on each book cover image.
---
The combination of Minecraft branding, incentives and chunks of game-play related storyline will give reluctant pupils a boost when tackling the exercises. The effect is cumulative – and children will want to find out what happens in the next section, and there's a motivational tool at work with the 'Trade in Your Emeralds' sections at the end of each workbook. Here, children can earn Minecraft items in the same way as the Minecraft game, in return for completing the exercises in the book.
Parents might also want to adapt the 'rewards' to fit in with their own motivational routines at home. It's engaging and addictive stuff for children, particularly those in KS2.
There are some major plus points with these books. Firstly, they are not dumbed down. They cover all areas in detail, with robust explanations and instructions that are precisely in line with the NC framework. We were impressed to see tricky areas of KS2 English – which many other pupil-aimed books often avoid – tackled with enthusiasm, such as proofreading, precis, the passive voice and etymology in the Y6 workbook.
The extension activities are challenging and will present greater depth pupils with something to really get their teeth into. There are also answers in the back of each book to help parents and home-educators guide children who find the tasks difficult.
The Minecraft world is an immersive one. The implementation and the storylines in each book have been well thought through. The gameplay spell is one that children will find genuine and convincing; and not a gimmick.
Pupils are walked through a series of biomes – each tackling a National Curriculum strand – by the Minecraft characters.  Each biome is set in a different Minecraft related setting that pupils will be familiar with if they have played the game. This winning combination of storyline, characters, a sense of quest and a challenge to reach the end and reap rewards is one that will really appeal to primary aged children.
In terms of academic rigour and curriculum thoroughness, these workbooks compare well with the CGP year group workbooks for English and Maths. And for those areas of English and Maths that pupils and teachers can find particularly monotonous, such as SPAG, written calculations, algebra and fractions, these books offer something different – a sense of fun, purpose and challenge.
Our verdict – We highly recommend these workbooks for targetted group learning in primary schools; tutoring; home learning and SATs revision – especially for pupils who are engrossed by the Minecraft game.
Many thanks to Collins for the review copies.
If you like the new series of Minecraft Official Workbook you might also like: National Geographic Kids Everything KS2 history books, The Young Cyclist's Companion by Peter Drinkell, Dr Maggie's Grand Tour of the Solar System by Dr Maggie Aderin-Pocock, the Britannica All New Children's Encyclopedia edited by Christopher Lloyd, Build a Castle by Paul Farrell and our collection of history topic books.
---
Browse more books for year 6