The Bear Who Sailed the Ocean on an Iceberg – at a glance
The School Reading Lists' five word review: witty, playful use of language.
Children's book title: The Bear Who Sailed the Ocean.
Children's author: Emily Critchley.
Genre: Middle-grade fiction.
Published by: Everything With Words
ISBN: 9781911427216
Recommended for children aged: 8+.
First published: Paperback October 2021.
This children's book is ideal for: independent readers in years 4-7.
---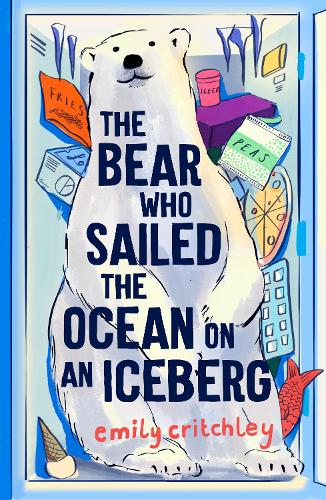 To see the latest price or order, click on the book cover image.
---
Our review:
Patrick Jolly is twelve years old and he has a few problems at home and at school. At home his mum is suffering from depression following the death of his baby sister and his dad, a wildlife photographer, is having to work away from home for long periods of time and at school, he is being bullied. His life at the moment contradicts his surname and is anything but jolly.
In chapter 6 Patrick makes a list of his problems:
1 – Mum still sad; 2 – Jake Sutherland; 3 – Monty; 4 – Mr Crankly discovering Monty; 5 – Anyone discovering Monty; 6 – Feeding Monty; 7 – Dad away (unable to help); 8 – Need to get some more Odour Eaters for P.E. trainers
A brief explanation of the above will give the reader an insight into Patrick's state of mind. Mum, dad and the Odour Eaters are straightforward. Jake Sutherland is a boy in Patrick's Year 7 tutor group who seems intent upon making Patrick's life a misery at school. Mr Crankly is his disapproving next-door neighbour and Monty, who features prominently in Patrick's worry list, is a huge polar bear that Patrick discovered in the freezer, in the garage.
Yes, that's right, Patrick was sent to the garage to pack away the Christmas decorations and he found the polar bear asleep in the freezer:
"It must have squashed itself in there with some difficulty….Patrick stared at the polar bear, unable to believe what he was seeing and, if he was being honest with himself, a little bit terrified."
Now you might think, what's the problem? Polar bears, even huge ones, are cute, furry and soft but Patrick is a bright boy and he knows that polar bears have huge paws, sharp claws and strong teeth and that they are carnivorous. An added worry is that this particular polar bear looks hungry but instead of eating Patrick, the bear introduces himself – "Terribly sorry….I don't believe we've met."
Now that the ice is broken, so to speak, Patrick and Monty formally introduce themselves by pressing hand against paw and revealing their full names to each other: "It's Patrick. Patrick Jolly." The polar bear straightened himself. "Wilbur Ambrose Cedric Barnaby Montague. The third," he added. "But most people call me Monty."
The story now develops as Patrick desperately tries to conceal Monty's existence from his mum and the neighbours and to provide enough food for him. Monty is an engaging companion and his knowledge of the world in general, and of Oscar Wilde in particular, keeps Patrick and the reader entertained.
At one point, early in the story, I thought that Monty was possibly just a figment of Patrick's fertile and rather troubled imagination – an imaginary friend with attitude. But Monty is more than just a clever device used to add some light relief to balance Patrick's worries and problems; he is a fully-fledged character who helps Patrick put his own issues into perspective and sort out a way of dealing with them.
The book tackles subjects that many young readers will recognise – family tensions, bullying at school and feelings of isolation, but it does so in a sensitive and warm-hearted way. Patrick's problems are real and his anxiety will strike a chord with many young readers. But the positive power of friendship and family is the key to his recovery and the book will bring a smile to the faces of its readers as the plot unfolds. I was particularly impressed by the sensitive handling of the Patrick – Monty – Mr Crankly relationship and, for purely personal reasons, by the revelation that the name Patrick means "noble".
The author's witty and playful use of language delivered mainly through Monty, and the humour that runs throughout the book will appeal to both young and adult readers. I thoroughly enjoyed reading this excellent book; it is warm and moving with memorable characters and a clever plot. I hope Patrick and Mr Crankly enjoy many games of chess together as Patrick grows up to fulfil his destiny – to be a fine and noble young man.
Many thanks to Everything With Words for the review copy.
If you like The Bear Who Sailed the Ocean on an Iceberg by Emily Critchley you might also like: Big Sky Mountain by Alex Milway, Panda at the Door by Sarah Horne, Gangster School: Gruffles and the Killer Sheep by Kate Wiseman, The Marvellous Land of Snergs by Veronica Cossanteli, Notes on my Family by Emily Critchley and The Sister Who Ate Her Brothers by Jen Campbell.
---
Browse more books for KS2