Forwards Always by Matthew Hodson – at a glance
The School Reading Lists' five word review: Poetry, performance, playful, creative, funny.
Children's book title: Forwards Always.
Children's author: Matthew Hodson
Genre: Poetry.
Published by: Cicada Books.
ISBN: 9781800660359.
Recommended for children aged: 6+ year-olds.
First published: Hardback April 2023.
This children's book is ideal for: Poetry lovers of all ages.
---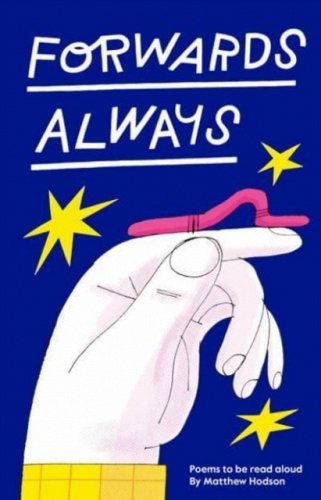 To see the latest price or order, click on the book cover image.
---
Our review:
Forwards Always is a lively, accessible poetry collection by graphic novelist and poet Matthew Hodson. Described in the blurb as 'silly, heartfelt, nonsense poems', this is a collection to be read out loud and shared around.
I'm having jelly for tea
I'm having jelly for tea
It's not even my birthday
But I'm having jelly for tea
This is poetry for children who claim not to like the genre, who (understandably) are bored by earnest, symbolic verse. Here the poems are funny, relevant and interactive. Many of them include footnotes to either guide the reading ('1. Do dog voice; 2. Do ghost voice') or provide random asides, including facts about Scottish wild cats and cultural traditions surrounding kiwi fruit!
Hodson has a general focus on 'food, nature and reality, as these are the things I spend most of my time thinking about'. The poems themselves range from the serious (climate change, handling difficult emotions, consumerism):
Yes

Yes to less
Lots gets lost
Let's protest
Want less lots
To the silly (Captain Sausage, bearded monkeys and skidding on floors):
Forever Always

Skidding along the kitchen floor
In my new socks

Forever

One giant skid
Like a perfect moment in time
But forever
Passing everyone by and waving
In my new socks
Bright, colourful illustrations bring the poems to life and aid their accessibility for even very young readers. Clever use of font size gives the book a playful feel, with some poems needing to be read with the book on its side or upside down. One is even instructed to be read so slowly it should take a whole day to read!
Many of the poems are only a few lines long, making them easy to memorise and recite. The reader is encouraged to 'practice certain poems more than once before you get the hang of them'. Young readers will be inspired to delve deeper into the flow and meaning of the deceptively simple words, developing their own love of poetry in its many forms. There is minimal punctuation, giving the reader more creative freedom over how they are narrated and acted out.
Timber

Lumberjacks
Unpacks axe
Whacks
Whacks
Whacks
Massive tree falls over
Lumberjacks
Relax
While not belying the author's talent, there is the sense that great fun was had in the writing of these poems. They display a love of language, of playing with words and their layout on the page.
Forever Always is a fun, engaging poetry collection for fans of Benjamin Zephaniah and Joseph Coelho.
Many thanks to Cicada Books for the review copy.
---
If you like Forwards Always by Matthew Hodson you might also like: our reviews of The Way of Dog by Zana Fraillon, A Passing On Of Shells by Simon Lamb, Old Possum's Book of Practical Cats by T.S. Eliot, Daydreams and Jellybeans by Alex Wharton and Katy Riddell, On the Move Poems About Migration by Michael Rosen and The Head That Wears A Crown edited by Rachel Piercey and Emma Dai'an Wright.
---
Forwards Always by Matthew Hodson is featured in our May 2023 book club picks.