The World's Most Magnificent Machines – at a glance
The School Reading Lists' five word review: Machines to captivate every child.
Children's book title: The World's Most Magnificent Machines
Children's author: David Long.
Genre: Children's nonfiction.
Illustrated by: Simon Tyler.
Published by: Faber Childrens.
ISBN: 9780571347186
Recommended for children aged: 9-12.
First published: Hardback November 2020.
This children's book is ideal for: Reading as a family, KS2 school libraries, and reluctant readers who prefer nonfiction.
---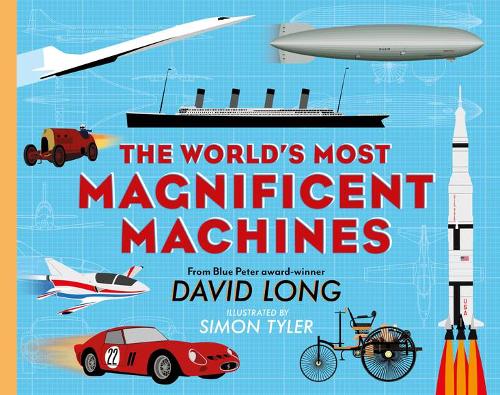 To see the latest price or order, click on the book cover image.
---
Our review:
Firstly, the cover caught my eye. Featuring glossy overlayed printed artwork and eye-catching holographic metallic bold type titling, it transported me back to my childhood in the eighties.  I collected bike decals and pencils featuring the exact same vibrant raised red holographic type, the most memorable being a Radio 1 roadshow window sticker – glued with parental disapproval. These flashes flutter randomly, to the point where I was nearly thrown out of an art gallery once for remarking that a Peter Blake lenticular was just like a ruler I'd had a school. Adding that it "had steam trains", failed to repair the situation.
This isn't a retro book, however. But it does incorporate some clever consideration of the audience. Many of the magnificent machines do hark back to another era – Concorde, the Hawker Siddeley Harrier, the Saturn V rocket, a Ferrari 250 GTO, and the Hindenburg Zeppelin were all technological stories I loved to read about thirty-something years ago. But there's also plenty to discover from the modern age and into the future with the Waymo, Scaled Composites, and the Pal-V Liberty. By carefully choosing machines from across periods in history, and incorporating a distinctive graphic railway poster style for the illustrations, David Long and Simon Tyler have ensured this book will appeal to children, and just as importantly, their parents.
In an age where books are bought for children, rather than bought by children, taking notice of style as well as content is becoming more and more important in the development of children's nonfiction literature. Rightly or wrongly, children often only get to read books that parents, teachers, or librarians decide to buy.
And that's where this book is a winner. It would happily sit on a child's bookshelf, or on display as a topic book in a classroom, as a stand-out reference book in the KS2 library, or as a coffee table book in the living room at Christmas; to be pored over by 10-year-olds, parents and grandparents alike.
For schools, this book would make a particularly useful resource for looking at narrative nonfiction. Too often primary schools focus on diaries and autobiographies and neglect true stories or narrative guides. Not only does this book offer a well-written, precise and engaging style for teachers to model, but it also presents the information visually in a constructive format that pupils can refer to when planning, writing, or delivering extended projects or presentations.
Our verdict
This book is ideal for KS2 aged children and with accessible, well-written, and interesting content. Each machine is presented as a short and detailed story – perfect for a reluctant reader who enjoys 'Top Trumps' and Jane's guides but who perhaps needs encouragement to read prose.
Many thanks to Faber Children's for the review copy.
If you like this book you might also like Britannica All New Children's Encyclopedia, A Trip to the Future by Moira Butterfield, our list of non-fiction and topic books for primary school,  and our list of children's books for Christmas.
---
You might also be interested in our list of newspapers for kids and our recommended books for children aged 7-11?
Please respect copyright and don't copy or reproduce our content. Sharing on social media or linking to our site's pages is fine. Thanks.