Storm Dragon by Dianne Hofmeyr and Carol Thompson – at a glance
The School Reading Lists' five word review: Imagination, dragons, bad weather, intergenerational.
Children's book title: Storm Dragon.
Children's author: Dianne Hofmeyr.
Children's illustrator: Carol Thompson.
Genre: Children's fiction, picture book.
Published by: Otter-Barry Books.
ISBN: 9781913074272.
Recommended for children aged: 3+ year-olds.
First published: Paperback October 2023.
This children's book is ideal for: Talking about the weather and its differing effects on coastal and inland locations as a storm rages.
---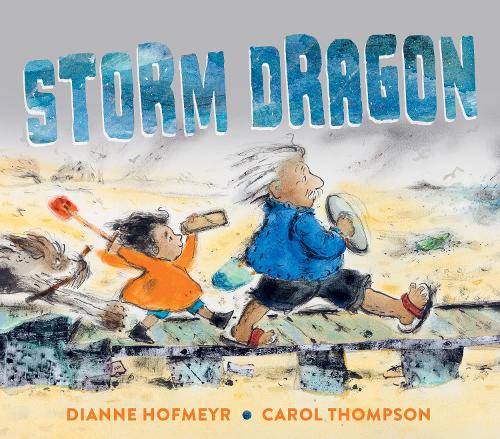 To see the latest price or order, click on the book cover image.
---

Our review:
It's a stormy night, one you might think about spending inside with a snuggly blanket. This is not the case for our two intrepid explorers though; instead, they get wrapped up and head out into a howling gale with their dog to search for the storm dragon.
Once outside they spot clues that show the dragon has already been there! They discover dragon footprints, dragon jewels, and even a dragon necklace before something appears in the sea spray and they turn and run for home! Will they get to safety before they're caught? What if their hiding place is discovered? Do they recognise the dragon? Is it not as scary as they thought and are they brave enough to find out? Will all be revealed as the story reaches its crescendo? Let's see!
Our verdict:
This is a beautifully illustrated book which, according to my six-year-old grandson, had nothing in it he didn't like! The grandpa has more than a passing resemblance to Albert Einstein and he and his grandchild tackle everything with an enthusiasm that leaps off the page.
There is an excitement and sense of anticipation throughout as the two explorers discover new things in a location which must be familiar to both of them. Everything is easily recognisable even if you don't live by the sea and the reader has the advantage of discovering what the storm dragon is before Grandpa as he and his grandchild rush home.
It is worth highlighting that this isn't an environmental book instead it concentrates on the fun to be had outdoors whatever the weather conditions or your age.
Teaching points and book club discussion ideas:
Many thanks to Otter-Barry Books for the review copy.
---
To order a class set of this book, please click below to order via uk.bookshop.org, an organisation that supports local bookshops, or Amazon.co.uk.
Buy from UK.Bookshop.Org Buy from Amazon.co.uk
Disclosure: If you buy books using the buttons above: we may earn a commission from Bookshop.org, whose fees support independent bookshops; as an Amazon Associate schoolreadinglist.co.uk earns from qualifying purchases.
---
If you like Storm Dragon you might also like: The Star Whale by Nicola Davies, illustrated by Petr Horáček, The Moon is a Ball by Ed Franck and Thé Tjong-Khing, My Dad is a Tree by Jon Agee, Ready for Spaghetti by Michael Rosen, illustrated by Polly Dunbar and Pops by Gavin Bishop.
---
Browse our lists of books for KS1