Animal Homes: Rainforest by Natasha Durley – at a glance
The School Reading Lists' five word review: Colourful, tactile introduction to rainforests.
Early reader book title: Animal Homes: Rainforest.
Children's author: Natasha Durley.
Genre: Preschool, Animals, Rainforest, Habitats.
Published by: Templar Books.
ISBN: 9781800782266.
Recommended for children aged: 1-3-year-olds.
First published: Board book July 2023.
This children's book is ideal for: Babies and early readers/adults looking to ignite their child's curiosity about animal habitats and conservation.
---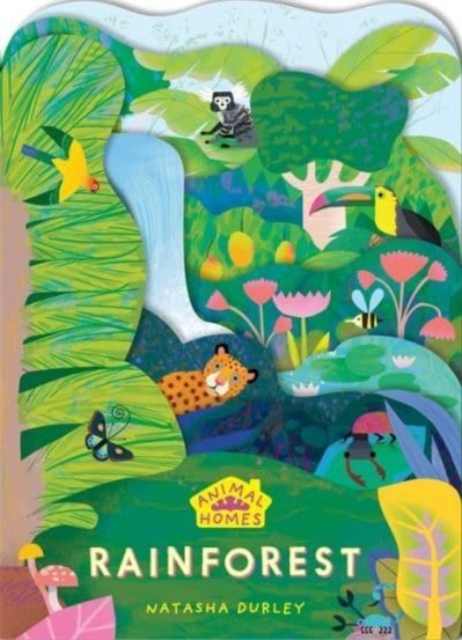 To see the latest price or order, click on the book cover image.
---
Our review:
Illustrator Natasha Durley invites us to explore the many-layered world of the rainforest in this beautiful non-fiction board book – perfect for busy little hands and inquisitive young minds. This book is ideal for adults to share with their preschool children and early readers, as an ideal introduction to STEM-based topics.
The book begins on the murky rainforest floor, inviting us to look closely and spot the little floor-dwelling critters to be found hiding there, as well as the larger animals searching for tasty bugs to eat. The wonderfully curved board pages provide ideal bold colours and stimulation for younger children to follow along, as well as opportunities for emerging readers to repeat animal names and sounds as we read along together.
As the pages increase in size, we emerge into the rainforest's river and mid-levels to meet larger creatures, including the snapping crocodile and pink river dolphin splashing at the water's edge, before moving up into the tree canopy and beyond. Through rich yet accessible language, the book introduces us to the different textures and habitats to be found within the rainforest itself – from the damp forest floor to the vibrant forest canopy – before we explore who lives there. The final pages culminate in a colourful bonanza of the many creatures found throughout the rainforest and invite us to recall together the animals we've met along the way.
Our verdict:
Animal Homes: Rainforest is a perfect introduction to help inspire an interest in conservation and a love for the natural world found outside our own countryside. It can often be difficult to find toddler books to maintain interest, but this is a fresh and inspiring non-fiction read, quite unlike many of the board books to currently be found for younger readers.
Many thanks to Templar Books for the review copy.
---
If you like Animal Homes: Rainforest by Natasha Durley you might also like: our reviews of Shark Super Powers by Jillian Morris & Duncan Brake, Super Small: Miniature Marvels of the Natural World by Tiffany Stone, Tell me about the Human Body & Plants By Emily Dodd, illustrated by Chorkung, Zoom Adventure Series; and Natasha Durley's Animal Homes: Ocean.
---
Browse our list of books for preschoolers